Video Game Promoting Andrew Yang Mocks President Trump's Stance on Violent Video Games with White House Brawl
In the upcoming independent video game Yang 2020: Path to Presidency, players can fight their way to the Oval Office as underdog Democratic presidential candidate Andrew Yang and blast President Donald Trump with a giant energy ball—similar to Goku's Kamehameha attack in Dragon Ball. But here the attack is accompanied by the battle cry "Freeeeedom Divideeeend," in honor of Yang's signature policy proposal.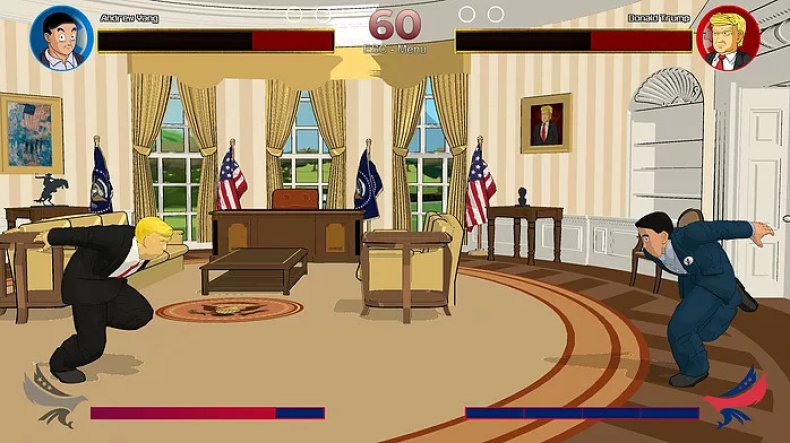 Developed by Scottish game designer Sam Vallely, Yang 2020 Path to Presidency is a fighting game in the spirit of the Street Fighter series or 2018's Dragon Ball FightZ, only with presidential candidates and other political figures instead of martial arts warriors.
In the game's story mode, players become Yang, who is literally fighting his way to the presidency. In-game opponents include fellow Democratic candidates Bernie Sanders, Cory Booker, Elizabeth Warren, Joe Biden and Pete Buttigieg, in addition to other 2020 election avatars, like a MAGA hat character named Fred the Felon.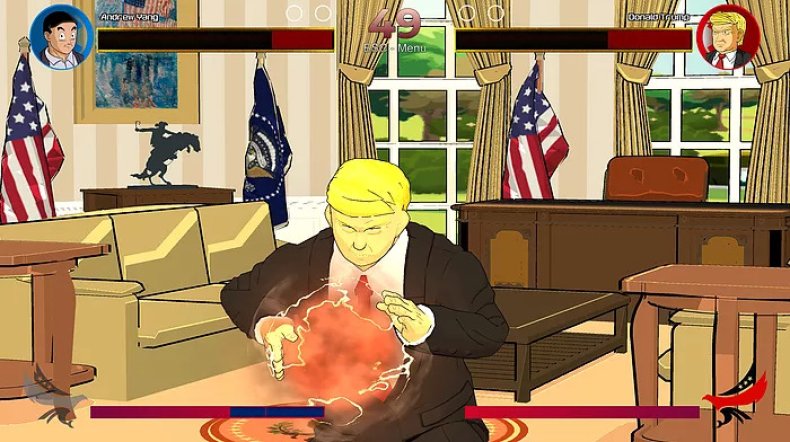 Vallely told the Daily Dot he was inspired to create the game after hearing Yang's political proposals on the popular podcast The Joe Rogan Experience. Vallely even honored the podcast host and mixed martial arts commentator in the game, pitting Yang against Rogan for an all-out brawl in the podcast studio.
Newsweek reached out to Rogan by email for his take on the game (and to ask how he'd dodge a "Freedom Dividend" energy attack) but didn't hear back before publication.
But the signature fight revealed in the trailer for Yang 2020: Path to Presidency involves Trump himself, whom Yang challenges in the Oval Office. Trump shows off some fairly limber martial arts moves in the game, opening combat by telling his opponent, "Video games cause violence...and so do I!"
Trump has stated his opposition to video game violence—video games are "really shaping young people's thoughts," the president said in 2018, years after a 2012 Trump tweet that blamed video game violence and "glorification" for "creating monsters." In light of this, Newsweek contacted the president's 2020 presidential campaign for comment but has not yet received a response.
The Democratic candidate unleashes his "Freedom Dividend" energy attack on the president in the trailer for Yang 2020: Path to Presidency.
Newsweek contacted the Yang campaign for its response to the candidate's starring role in the video game—and to learn what other policies besides the Freedom Dividend would make an excellent video game super attack—but did not hear back before publication.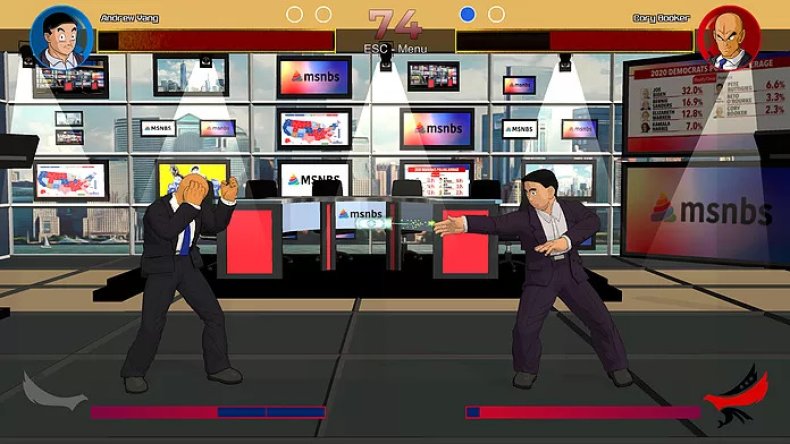 As an entrepreneur and startup executive, Yang has premised his presidential campaign on policies unique to the Democratic field, often making technocratic pitches for addressing traditional liberal and left-wing policy priorities. His signature idea is the Freedom Dividend, a universal basic income of $1,000 a month for every American over 18.
The proposal has proved popular with Yang's small (he is polling at 3.2 percent nationally, according to Real Clear Politics' aggregates) but dedicated base of liberal and libertarian-minded young men, who have helped the candidate punch above his polling position in online political dialogue, despite a dearth of mainstream press coverage.
Beyond his Freedom Dividend, Yang has voiced support for shortening the workweek, implementing a value-added tax and expanding the U.S. Forest Service. In line with his granular approach to political problem-solving, Yang has also suggested replacing gross domestic product as a measurement of national economic health with metrics that combine factors like "health and life expectancy," "average income and affordability," "labor force participation," "infrastructure," "homelessness" and "environmental quality."
While Yang is the protagonist of Yang 2020: Path to Presidency, the video game will also include a "Versus Mode" where players can duke it out with Trump as other candidates.
Newsweek contacted Vallely for additional insights into the Yang fighting game but did not hear back before publication. Yang 2020: Path to Presidency will be released to PC players via Steam on December 30.