Video: Great White Shark Swims Inches From Kayaker's Boat off California Coast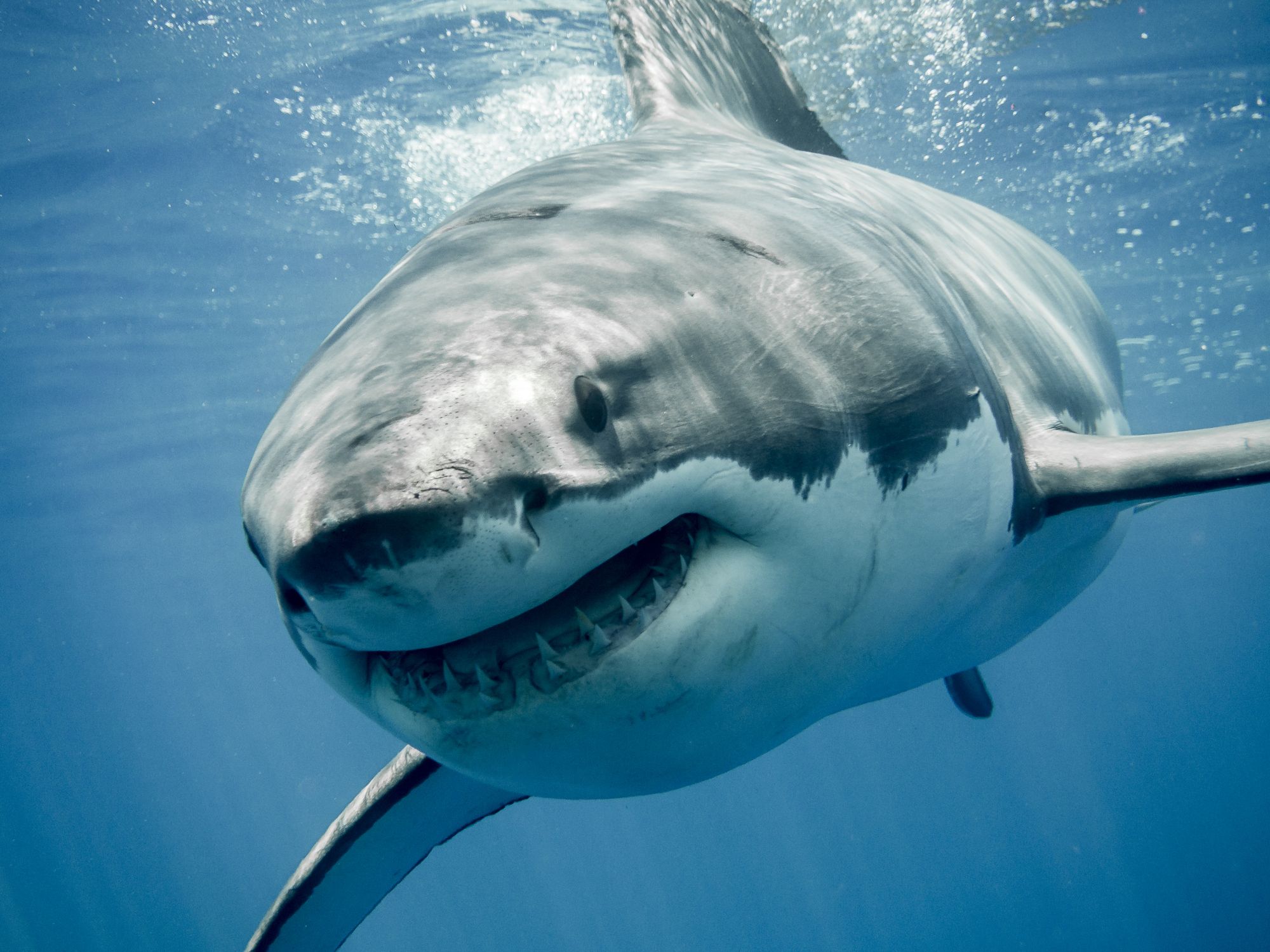 A kayaker has spoken about the "humbling" moment a great white shark slinked past her vessel off the Pacific Coast, after drone footage of the moment was shared online.
The footage shows a kayaker paddling in the waters of Monterey Bay as a great white shark skirts the boat, and another swims just feet away. The camera then pans up, and reveals the kayak is a stone's throw from beach-goers on the Aptos shore.
"I felt at home," Nicolle Otman, the kayaker, told SFGate. "It's a pretty humbling and relaxing experience." Some of the creatures Otman shared the water with measured up to 13 feet, she said.
Newsweek subscription offers >
Marine biologist Giancarlo Thomae, who has also shared the water with sharks, captured the drone footage of Otman encountering the great whites. Thomae has kayaked off the coast of Aptos since the sharks began gathering there four years ago.
Each spring, around 40 juvenile great white sharks head to the stretch of water near Santa Cruz, according to Thomae. He and fellow researchers hope to understand what is attracting the young sharks to this area.
"When you get aerial footage you can use the kayak to estimate the shark's size," Thomae told SFGate. "They're not afraid of a small, nearly silent vessel."
The footage was released days after Thomae was criticized for taking a photo of a fellow scientist beside a dead great white.
Newsweek subscription offers >
Thomae snapped the photo at Aptos beach on June 17 as a team of researchers prepared to remove the shark's washed up body from the beach and take it to autopsy.
He explained he took the photo of the shark, measuring around 9ft and weighing about 500lb, to give a sense of scale of the animal. Thomae told The New York Post he was surprised by the backlash.
"It's not like we're trophy hunters in Africa," Thomae said.
"We needed to do it. I got a call early in the morning about a dead shark, so we rushed there. The tide was threatening to wash it back out to sea. I asked her to lie there because we didn't have any official way to measure length and weight."
"As a biologist and a nature-lover, it makes me happy that people care so much about wildlife," he argued, according to The Sacramento Bee. "I'm sorry if my photo offended anyone."
Video: Great White Shark Swims Inches From Kayaker's Boat off California Coast | Tech & Science