Video Shows a Herd of Cows Roaming a New York Town after Escaping from a Nearby Farm
Earlier this week, a herd of five to ten cows escaped from a farm in Cicero, New York, and used their newfound freedom to explore the suburbs.
The free-roaming animals were filmed by local police, who kept an eye on the herd until their owner came to round them up. The footage of the escapade was uploaded online with a soundtrack of "Bad Boys." The video was shared on the Cicero Police YouTube page and social media accounts.
"Cicero PD was on scene today around mooooooooon time in the Lyons Landing area to assist in apprehending the loose cows," Cicero Police said on Facebook.
Chief Steve Rotunno of the Cicero Police Department told Newsweek the team responded to a call concerning some cows found roaming a nearby neighborhood at around 9:30 a.m. EST on May 13. Two patrol cars were sent to investigate.
"We used our police cars to herd them towards the farmer who secured them," Rotunno said.
From footage taken on residents' security cameras, it appears the cows made a break for it at night. How did they get out? It is a mystery, said Rotunno. "We really don't know," he said. "The big thing is nobody got hurt. They really didn't do any damage. It was a nice day, but they were moving about the town of Cicero."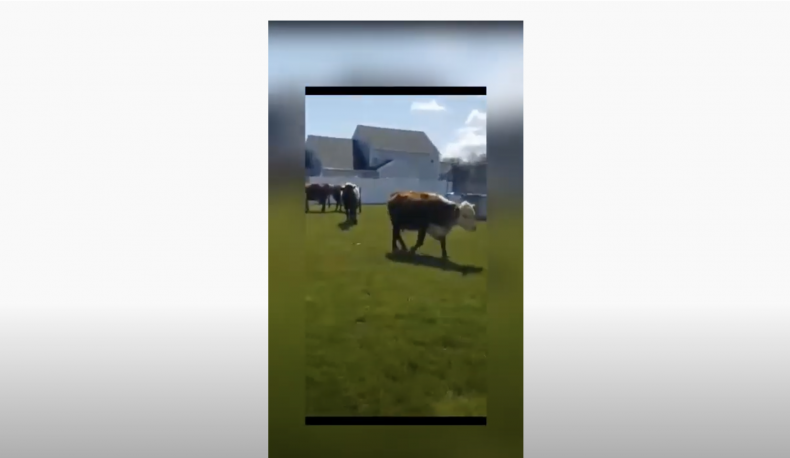 There have been a number of incidents involving runaway animals in recent weeks, including a peacock that left Boston's Franklin Park Zoo in search of love and a tiger that made a break for it in Guadalajara, Mexico.
Footage shows the big cat being caught by a man in a cowboy hat using a lasso. The lovestruck peacock was lured back home by a police officer using a mating call played on his cell phone.
Earlier this week, a tribe of goats were filmed taking over a neighborhood in San Jose. Locals suspect one tripped an electric fence, allowing dozens of animals to escape the enclosure into a nearby residential street.
A resident told local news the animals are brought in to clear the brush of a nearby hill, after an accident with a tractor caused the hill to set fire around 15 years ago.
In this instance, Rotunno hopes the footage provides residents with some entertainment in these unusual times.
"It was just a unique call for us," said Rotunno. "In light of everything that's gone on in the world today we decided to make light of it and put something out there to cheer people up a little bit."