Remember the homeless guy who asked for a cop's help when shaving in a Florida gas station parking lot so he could interview for a job? Well, he got that job as a janitor at McDonald's.
A viral video showed Tallahassee Police Department officer Tony Carlson lending the man, named only as Phil, a helping hand to get rid of the beard, a precondition for the job interview.
"We talked to Phil today!" said an update posted to the Tallahassee Police Department on August 1. "He's doing great & enjoying his new job at McDonald's. We received some gift cards for various restaurants from a former TPD officer to give to Phil."
It all started when Phil overheard a McDonald's recruiter talking about hiring the homeless. Seizing the opportunity, Phil put himself forward for a role and was advised to clean up and shave his beard before heading into McDonald's for a job interview.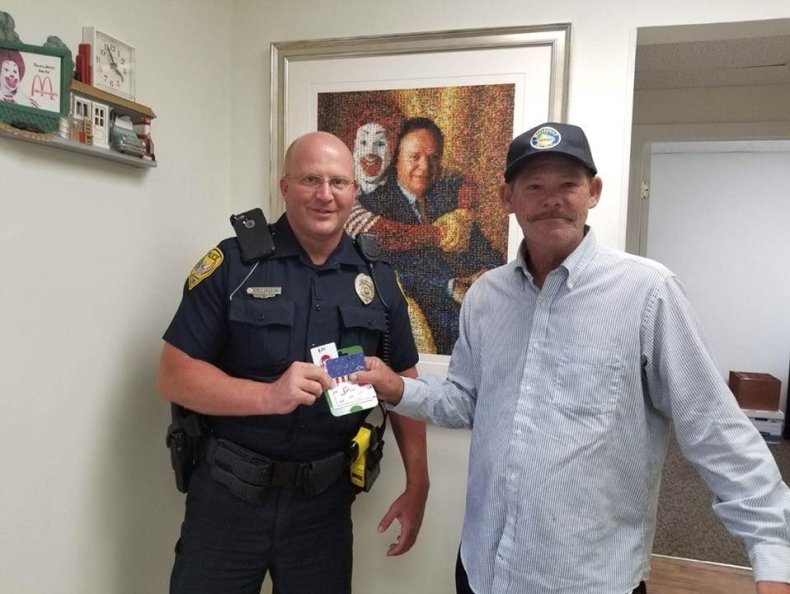 Later on in a parking lot, Phil was struggling to shave his beard without a mirror.
"When I met him in the parking lot, he was having problems with his razor and asked me if I can help. I didn't know if there was anything I could do, but I came over to see if I can fix it so he could shave," Officer Carlson told Newsweek previously.
"He was trying to shave and get cleaned up for a possible job at the McDonald's next door. And the thing that caught me with Phil was that he was so excited that he may be getting a job if he just did this one simple thing. That's why I was so willing to help him out in any way that I could."
Unbeknownst to the two men, an onlooker filmed the act of kindness and shared it on the internet, where it spread, touching the many Americans who watched it.
But there was another snag. Phil had no I.D. or Social Security card. He needed both to secure the job.
Fortunately, Senator Marco Rubio's office nearby also saw the footage and got in touch to help Phil with the forms. Rubio tweeted that he was "proud" of his staff and that they are "rooting for you, Phil!"
Carlson printed those forms off and took Phil to a local homeless center where they were processed, reported TODAY.
Now Phil is working as a janitor at McDonald's and the company promised him "room for growth" in his new career. And it sounds like he's doing well.