Video of Joe Biden Doing Impression of Republicans Viewed Over 1M Times
A video of President Joe Biden doing an impression of Republicans has been viewed more than one million times on Twitter as the president criticized some GOP members for touting infrastructure spending they opposed.
Biden was speaking at the Democratic National Committee's summer meeting in National Harbor, Maryland on Thursday and mocked elected Republicans who've praised infrastructure projects despite voting against the bill that funds them.
The $1.2 trillion bipartisan infrastructure bill was passed by a significant majority in the Senate and then largely along party lines in the House of Representatives in November 2021 before Biden signed it into law.
Biden said that his administration got "a little help from Republicans" in passing the bipartisan infrastructure bill.
"Not a lot but enough to get it passed," he said. "But the truth is, there are a lot more Republicans taking credit for that bill than actually voted for it. I see them out there."
Biden then adopted a mocking voice and said: "Now we're gonna build this new bridge here. We're all for it. And, by the way, this new road. We're gonna have an internet that's gonna be..."
Amid laughter, Biden switched back to his usual tone of voice and went on: "I love 'em, man. They ain't got no shame. They don't have any shame."
Footage of Biden's Republican impression shared to Twitter by user @Acyn had been viewed more than 1.3 million times as of early Friday morning.
This isn't the first time Biden has accused Republicans of taking credit for infrastructure when they opposed the bill to fund it. Last year, he said "Some people have no shame" but added that he was "happy they know that it benefited their constituents."
In January, Speaker of the House Nancy Pelosi's office released a list of Republicans who had opposed the legislation but subsequently touted items the law was funding. The statement said that "House Republicans have been caught voting no and taking the dough!"
The bipartisan Infrastructure Investment and Jobs Act passed the Senate by a vote of 69 to 30, with Senate Minority Leader Mitch McConnell among the Republicans backing it.
In the House, the vote was 228 to 206 with six Democrats voting against the legislation and 13 Republicans voting in favor of it.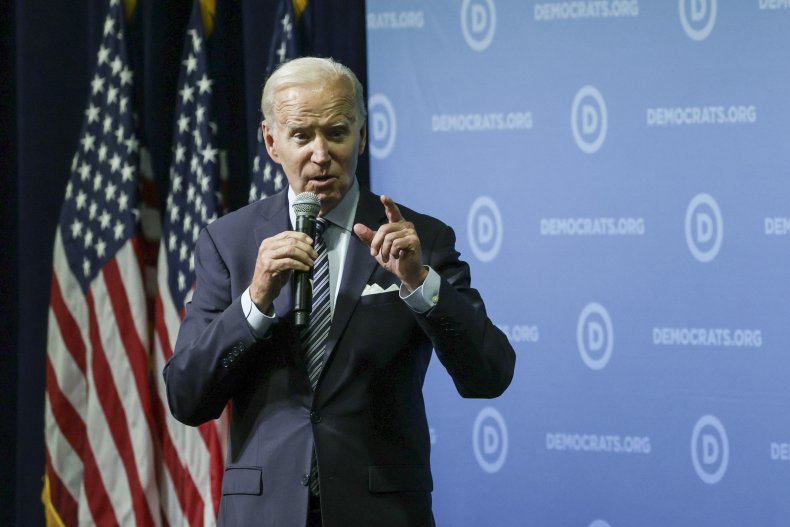 The president's mockery of Republicans comes with less than two months until crucial midterm elections as Democrats' prospects appear to be improving. However, the GOP remains favored to take the House.
Biden has also had a number of recent legislative successes, in particular, the Inflation Reduction Act, which he signed into law on August 16.
That legislation is seen as reviving Biden's Build Back Better agenda after that plan stalled earlier in his administration. The $737 billion Inflation Reduction Act is a slimmed-down version of the earlier $1.75 trillion Build Back Better Act, which failed in the Senate in October 2021 due to opposition from Democratic Senator Joe Manchin.