Video of Joe Biden Saying 'President Harris' Viewed Over 2.5 Million Times
A video of President Joe Biden accidentally saying "President Harris" instead of Vice President Harris has been viewed more than 2.5 million times across numerous widely shared tweets. The phrase "President Harris" was later trending on Twitter.
In the clip, Biden says: "Now when President Harris and I took a virtual tour of a vaccination center, in Arizona..." Biden also paused midway through the sentence as if realizing his mistake.
Videos of the mistake have been shared by outlets and commenters including the Daily Caller, Newsmax, and Laura Ingraham, and have each amassed hundreds and thousands of views.
The mistake has been criticized by conservative voices such as Donald Trump Jr., who shared a clip of the mistake that has been viewed nearly 300,000 times and said, "He's literally incapable of getting even the basics right."
Newsmax journalist John Cardillo said on Twitter: "Trump did five unscripted marathon rallies in as many cities per day during the campaign. Biden can't complete a sentence off a teleprompter. But the new dumb excuse is, 'Biden has a stutter and one time Trump confused Matt Gaetz with Rick Gates...'"
Political commentator CJ Pearson said: "Joe Biden just called Kamala Harris 'President Harris.' Not necessarily breaking news for those who pay attention."
It is not the first time Biden has made this slip. In December, while speaking about receiving the vaccine, Biden, who was president-elect at the time said: "President-elect Harris took hers today for the same reason."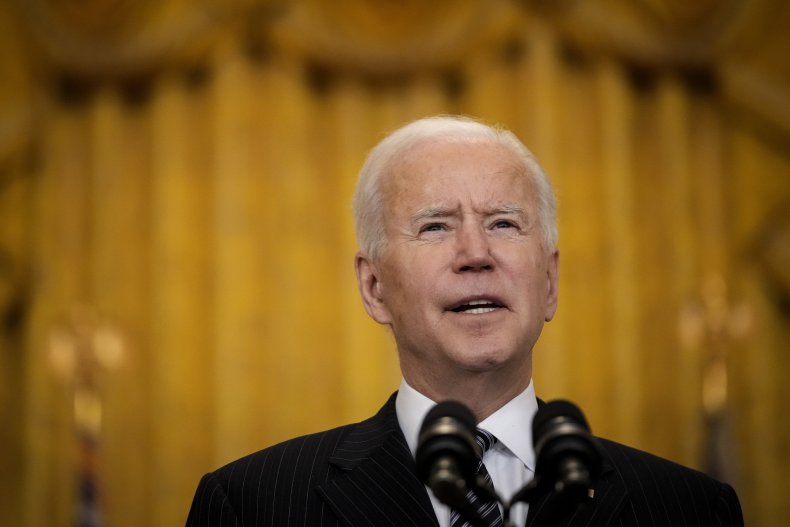 President Biden, who is 78-years-old, has struggled with a stutter since his childhood and has occasionally slipped-up while speaking in public.
At a CNN town hall last year, Biden discussed his stutter and said: "It has nothing to do with your intelligence quotient. It has nothing to do with your intellectual makeup."
He said he thinks "part of it's confidence" and that he has to "think in terms of not rushing."
Biden explained a technique he uses to help his speech and said: "You have to break it up, because you get so nervous.
"So what I do, if I say, 'The Democratic presidential town hall is tonight on CNN,' I'll say: 'The presidential town hall, slash, is on CNN tonight, slash, it's going to have the following people, slash, Anderson Cooper is going to speak, slash."
The White House's transcript of the speech has added the word Vice in brackets for clarity, and reads: "Now, when [Vice] President Harris and I took a virtual tour of a vaccination center in Arizona not long ago, one of the nurses on that — on that tour, injecting people, giving vaccinations, said that each shot was like administering a dose of hope. 'A dose of hope.' That's how she phrased it."