Video of Joe Rogan Impersonating Disabled Child Resurfaces Amid Spotify Scandal
A video of Joe Rogan impersonating a child with an intellectual disability during a stand-up routine has resurfaced and gone viral.
"Joe Rogan impersonates a child with intellectual disabilities during his stand-up," the popular "Fifty Shades of Whey" Twitter account posted on Friday, alongside a short clip that has already been viewed more than 200,000 times.
The clip— from Rogan's 2006 comedy special Joe Rogan: Live—shows Rogan imagining how a boy with an intellectual disability would react to the biblical story of Noah's Ark.
"You tell the story of Noah and the ark to an 8-year-old retarded boy, he's gonna have some questions," Rogan says in the clip.
Rogan regales the audience with the story, before doing an impression of the child's response that sees him rocking back and forth on a stool and shaking his head repeatedly.
"I wonder if @spotify is aware that they threw $100 million to someone so painfully unfunny that he impersonates a disabled child in his 'comedy' as a punchline," Fifty Shades of Whey added in another tweet.
It comes as Spotify continues to face pressure over Rogan's podcast, The Joe Rogan Experience, which the company reportedly paid more than $100 million to license.
Last month, Neil Young removed his music from the platform and accused Spotify of allowing Rogan to spread COVID-19 vaccine misinformation.
Spotify recently announced that it will start to combat COVID-19 misinformation by adding a content advisory before all podcasts that discuss COVID-19, directing listeners to up-to-date information from scientists and experts.
But the discontent has continued, with singer-songwriter India.Arie citing Rogan's past use of racial slurs as her reason for pulling her music from Spotify.
The award-winning Black singer-songwriter also posted a video compilation that showed Rogan using a racial slur in clips of episodes over a 12-year span.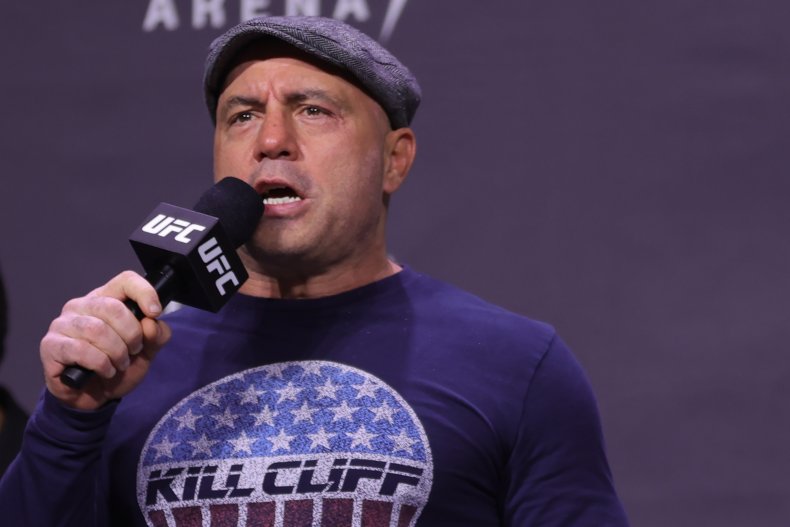 Rogan has apologized, saying in a video posted on Saturday that his use of the N-word in the compilation the singer posted was the "most regretful and shameful thing that I've ever had to talk about publicly."
But he claimed that he hadn't said the word in years, and that the clips had been "taken out of context."
Since then, clips from a 2017 episode of his podcast where Rogan argued that people should be allowed to use the N-word and said a host of other racial and ethnic slurs have gone viral.
Rogan also said the N-word during his 2006 special. "That's a magic word. N*****," he says.
"See?" Rogan adds when the audience reacts to the slur. "See even explaining that that's a dangerous word to say and saying the word, everybody's like, 'oh, this can start some sh**!"
He continues: "Only Black people are allowed to say it and I respect that. I never say that word... unless I'm positive. there's no Black people around. And then even when I say it, I don't say it in a racist way. I'm not racist at all. I say it just because it sounds pretty cool. It's not fair that you guys get to use that word."
Rogan and Spotify have been contacted for comment.