Video of Kodak Black Throwing $100k into the Ocean Sparks Disbelief, Outrage
Kodak Black has been slammed on social media, after sharing a video of himself throwing an estimated $100,000 into the ocean while aboard a boat.
The rapper, Bill Kahan Kapri, took to Instagram late Tuesday to share footage of himself looking disgruntled as he tossed stacks of crisp notes into the water.
Captioning the clip, the 24-year-old musician wrote: "I Broke You Off When Dem F*** N***** Wouldn't Give You A Dime !!! I Ain't Owe You S*** N**** I Just Wanted To See You Shine !!! Yeen Never Gave Me S*** N**** I Had My Own Grind !!!!"
After the video was criticized on Instagram, it was soon circulated on Twitter, where viewers also expressed their outrage.
"Instead of donating to the ones in need, he throws it away just to catch attention," wrote @gilber_sen on the micro-blogging platform.
"Destruction of money is a federal crime because it causes damage to the entire economy," said @JohnZsid. "It's the US government's money, not his. We borrow money as printed symbols of worth. Also, more accurately, it's money his label loaned to him that he has to pay back."
Responding to a fan who spoke out in defence of Kapri, @hft_trading1988 said: "This is a twisted mindset. You can never see any successful entrepreneur do this, only those with poverty mindset."
"I hate that video of Kodak black spraying $100k in an ocean," tweeted @SiSi____Eko. "I know some of you will think is fake currency but people are that crazy much."
"Kodak black throwing money in the water while there are people without basic amenities in the world. Are you entertained...," said @ScarcityStudios.
Meanwhile, @VolJean1 wrote in reaction to the video: "If this is real Kodak Black needs a conservatorship."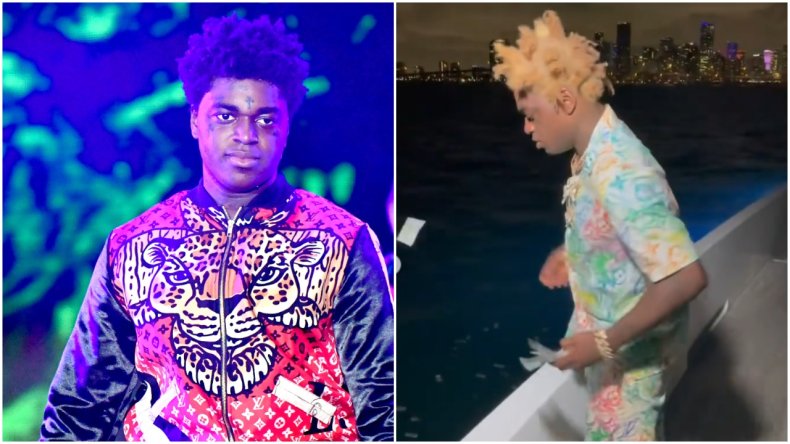 A follow-up post on Instagram showed the musician posing with a sizable bundle of cash, as he alluded to being loyal to somebody while failing to see the "signs" that the friend in question had "envied" him.
"I AIN'T SIGNING RAPPERS NO MORE," he also wrote in a since-deleted tweet, before adding: "F*** a Friendship, I'm On Businezz!," according to HipHopDX.
In a video that has been circulated on Twitter, Kapri was seen speaking about friends not being loyal to him, or giving him a promised $1 million on his early release from prison.
There has been speculation that he has been taking aim at childhood friend Jackboy, who is signed to Kapri's Sniper Gang label, and with whom he is said to have fallen out.
In an Instagram Live session, Jackboy—real name Pierre Delince—said when asked about the pair's friendship possibly souring: "Don't ask me no questions, just chill and vibe. I ain't answering s***. I ain't got s*** bad to say about people. You ain't gon' get that from me. You ain't gon' have no video of me on YouTube."
"That's my brother at the end of the day," Jackboy added. "Hey, see your number, unblock me off Instagram, see your number, and I can holla at you. All that other s***? Everybody know like, as far as 'day ones,' Jackboy's a real a** n****. So, I'm not gonna go in detail or explain shit to nobody. I don't care.
"I do not care about Instagram that much I never wanted to be a rapper in my life. I started rapping probably like, three years ago, four years ago. This s*** don't mean that much to me. I made millions off this s***!
"I already won. I bought my mom a house. I won. I bought my mom a car, paid off, I won. All my cars, I got three cars, paid off. I won. Like, I'm not gonna come on here and talk bad about my brother."
On Donald Trump's final day as President of the U.S, on January 20, he pardoned a reel of people, including Kapri.
Kapri was serving a 46-month sentence in prison after pleading guilty to possession of multiple illegal firearms in 2019. At the time, he pledged $1 million to charity on Twitter if the then-president were to pardon him.
"If The President Them Free Me, I'm Gonna Spend 1 million on Charity within The First Year I'm Out. That's on Everything," read the tweet, which was deleted shortly afterward.
Following news of Kapri's pardon, the White House cited a statement about his involvement with "numerous philanthropic efforts."
Also referenced was his $50,000 donation to David Portnoy's Barstool Fund, which aims to help small business stay afloat during the COVID-19 pandemic.
Newsweek has contacted a representative for Kodak Black for comment.