Video of Moment Senate Passed Juneteenth Bill Viewed Over 700K Times
A video of the Senate unanimously agreeing to make Juneteenth a federal holiday has now been viewed more than 700,000 times as the bill heads to the House of Representatives.
Juneteenth is a combination of "June" and "nineteenth" and it marks June 19, 1865, when the last enslaved people in Galveston, Texas, were informed that they were free following the end of the Civil War.
The Senate approved a measure to make Juneteenth a federal holiday, with no objections on Tuesday. A video of the moment shared on Twitter by ABC News has been viewed more than 730,000 times.
A bill to make Juneteenth a federal holiday was introduced in 2020, but Republican Senator Ron Johnson of Wisconsin blocked its passage.
However, on Tuesday, Johnson dropped his objection to the bill, which would allow Juneteenth to become the 11th federal holiday.
The graphic below, provided by Statista, illustrates Americans' familiarity with Juneteenth. It is based on a Gallup poll conducted in May.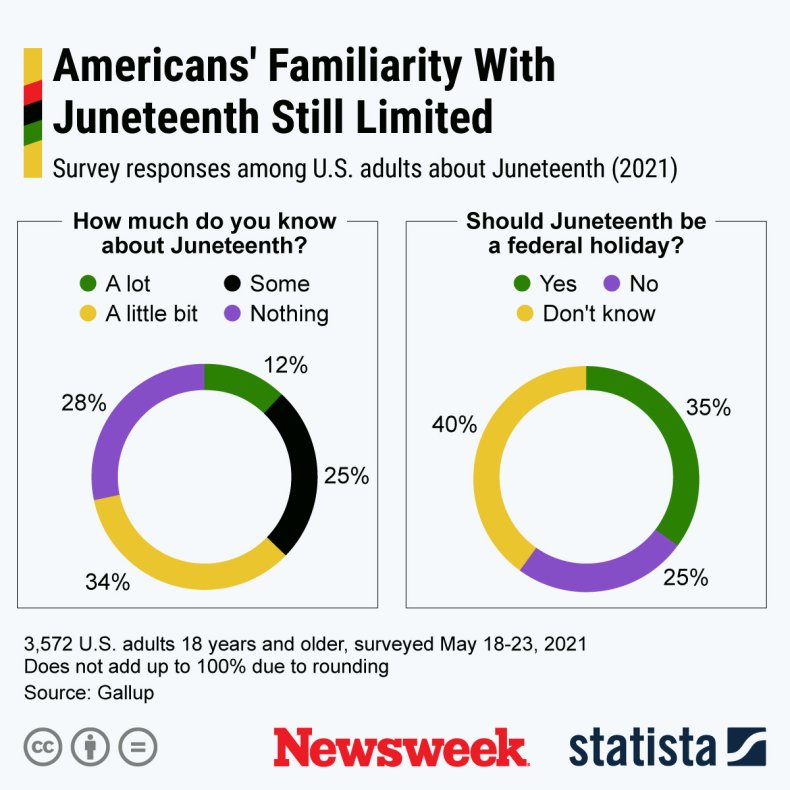 "While it still seems strange that having taxpayers provide federal employees paid time off is now required to celebrate the end of slavery, it is clear that there is no appetite in Congress to further discuss the matter," Johnson said in a statement released to the press.
"Therefore, I do not intend to object," he said.
Senate Majority Leader Chuck Schumer made the motion and it was passed. It will now have to go to the House for final approval before the bill finds its way to President Joe Biden's desk.
In a statement, Sen. Schumer said: "Juneteenth commemorates the moment some of the last formerly enslaved people in the nation learned they were free.
"Making Juneteenth a federal holiday is a major step forward to recognize the wrongs of the past—but we must continue to work to ensure equal justice and fulfill the promise of the Emancipation Proclamation and our Constitution."
In 2020, Republican Texas Senator John Cornyn and Representative Sheila Jackson Lee, a Democrat representing Texas' 18th congressional district, introduced a bill to make Juneteenth a national holiday.
Cornyn welcomed the Senate vote on Tuesday, tweeting: "Happy that my bill to recognize Juneteenth as a national holiday just passed in the Senate. It has been a state holiday in Texas for more than 40 years. Now more than ever, we need to learn from our history and continue to form a more perfect union."
Juneteenth is already a recognized holiday in 47 states and the District of Columbia. It commemorates the day when Major General Gordon Granger of the Union Army announced to the enslaved people of Galveston, Texas, that they were free.
This followed the defeat of the Confederacy in the Civil War and the passage of the 13th Amendment, which ended slavery in almost all cases.
Granger issued an order that read: "The people of Texas are informed that, in accordance with a proclamation from the Executive of the United States, all slaves are free.
"This involves an absolute equality of personal rights and rights of property between former masters and slaves, and the connection heretofore existing between them becomes that between employer and hired labor."
The enslaved people in Galveston were the last in the nation to hear about their freedom, so June 19th has become a day to mark the end of slavery in the U.S.
Correction 6/16/21 11.30 a.m ET: This article was updated to note that the video in question was shared by ABC News, not NBC News as previously stated.
Update 6/16/21 11.15 a.m. ET: This article was updated to include a statement from Senator Chuck Schumer.
Update 6/16/21 7:50 a.m. ET: This article was updated to add a graphic.