President Donald Trump may have hoped that his call for political unity would be the talking point of his State of the Union address but it appeared that on social media, it was a handclap that stole the show.
Trump's wide-ranging speech lasted for over 80 minutes during which he announced another meeting with the North Korean leader Kim Jong Un, reiterated his calls for a border wall with Mexico and took a swipe at "ridiculous partisan investigations," referring to the Mueller inquiry.
But social media was buzzing about one reaction from Speaker of the House Nancy Pelosi, who was sitting behind Trump with Vice President Mike Pence.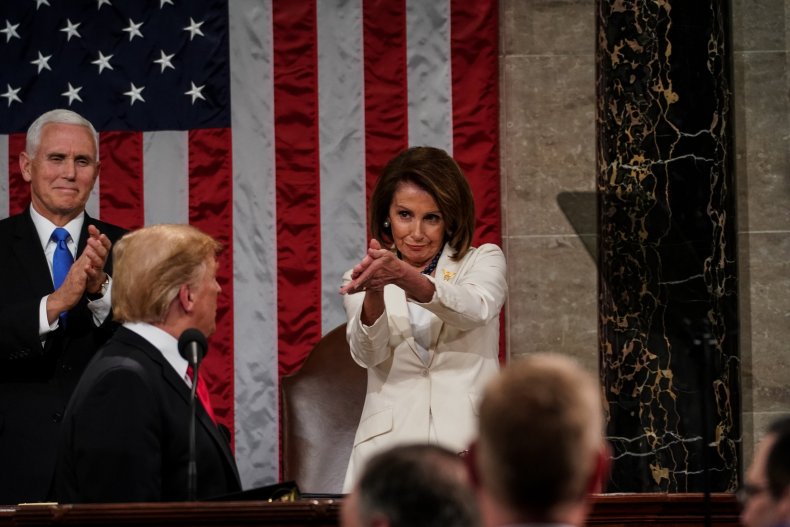 Trump said: "We must reject the politics of revenge, resistance and retribution, and embrace the boundless potential of cooperation, compromise and the common good."
Along with other lawmakers, Pelosi stood and clapped. Photographers captured the image of Trump appearing to turn back to face Pelosi as she clapped with outstretched arms. In the live broadcast the camera panned to a group of Democrat women dressed in white, the color favored by suffragettes.
Pelosi's applause was widely interpreted as being sarcastic, and the term #PelosiClap got an ovation of its own on social media.
The magazine Slate tweeted: "Nancy Pelosi creates a new genre of Trump resistance: clap sarcasm." Shauna tweeted to her 285,000 followers: "Oh my god hang this in the Louvre."
Jennee Osterheldt tweeted: "When bless your heart means everything but bless your heart. The Pelosi clap is 2019 energy." Journalist Eric Thomas tweeted: "Here's that applause you so desperately need, boo."
During Trump's address, Pelosi was seen holding and reading papers, which her spokesperson confirmed was a copy of Trump's speech.
After the address, Pelosi said in a statement that it would take "days to fact-check all the misrepresentations that the President made tonight."
She also took a swipe at Trump's insistence on border wall funding, saying: "Instead of fear-mongering and manufacturing a crisis at the border, President Trump should commit to signing the bipartisan conference committee's bill to keep government open and provide strong, smart border security solutions."
Conservative commentator Ann Coulter was less than impressed with Trump's address, during which she tweeted her criticisms which ended with: "This was the lamest, sappiest, most intentionally tear-jerking SOTU ever. Please fire your speechwriter."