A video of an oxygen tanker truck escorted by police with sirens wailing in India highlights the country's dire COVID-19 situation as the country has recorded a new record of more than 350,000 new cases for the fifth day in a row.
The video, posted to Twitter by correspondent Yogita Limaye on Sunday, shows a new common theme in India and portrays how highly valued medical oxygen is as hospitals across the country have experienced a widespread shortage with doctors desperately begging for more supplies, according to the Associated Press.
"Sights you never thought you'd see. An oxygen tanker with police escorts. More precious than gold," Limaye wrote in her post with the video.
India on Monday reported more than 117 people dying from COVID-19 each hour as the country has recorded more than 17.3 million cases in total behind the U.S. at more than 32 million.
India's government has increased its efforts to transport medical oxygen, with air force planes and trucks carrying tankers and with Oxygen Express trains, according to the Associated Press. A high court in India's capital of New Delhi on Saturday warned against obstructing the delivery of oxygen to hospitals and said it would "hang" anyone who does.
The city of Nashik will have all of its oxygen tanker transports escorted by police to hospitals, Nashik city police commissioner Deepak Pandey said according to a Saturday report from the Times of India.
"In view of the shortage of medical oxygen, there is a possibility that such tankers could be looted on the roads and some other untoward incidents cannot be ruled out. Hence, it has been decided that there will be an escort team for every oxygen tanker moving from the supplier to the hospitals," Pandey said.
On Wednesday in Nashik, 24 COVID patients died at a hospital due to a disruption in oxygen supply after it was caused by a leak in the oxygen's main storage tank, the Indian Express reported.
The U.S. has pledged to support India amid the ongoing crisis. It will deploy resources and supplies, building on the "seven-decade health partnership [with India]...including battles against smallpox, polio, and HIV," according to National Security Council spokeswoman Emily Horne, who issued a statement on National Security Advisor Jake Sullivan's Sunday phone call with India's National Security Advisor Ajit Doval about the rising COVID-19 cases.
"To help treat COVID-19 patients and protect front-line health workers in India, the United States has identified supplies of therapeutics, rapid diagnostic test kits, ventilators, and Personal Protective Equipment (PPE) that will immediately be made available for India," Horne said.
She added that the U.S. "is pursuing options to provide oxygen generation and related supplies on an urgent basis."
Sullivan tweeted Sunday that he will stay in close touch with Doval about India's situation in the coming days.
"Just as India sent assistance to the United States as our hospitals were strained early in the pandemic, we are determined to help India in its time of need," President Joe Biden tweeted on Sunday.
The U.K.'s Foreign Secretary Dominic Raab said that ventilators and oxygen had been shipped to India on Monday, and France has also pledged to send India oxygen supplies.
Newsweek has reached out to India's Press Information Bureau for comment.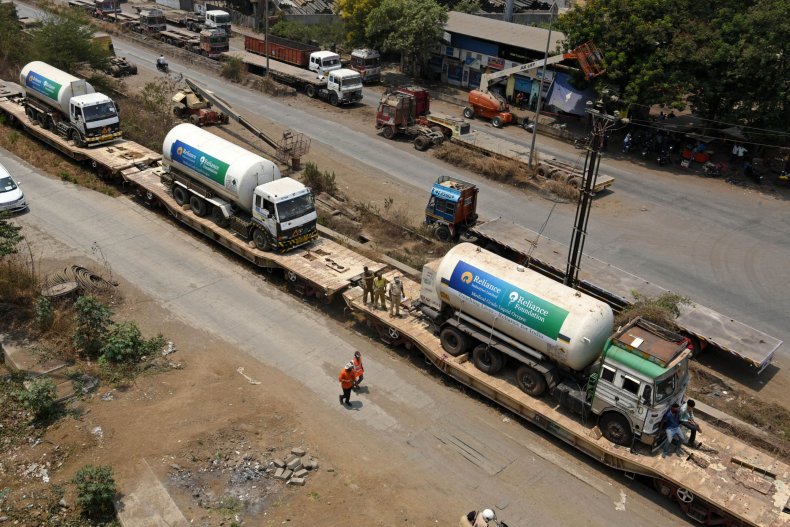 Uncommon Knowledge
Newsweek is committed to challenging conventional wisdom and finding connections in the search for common ground.
Newsweek is committed to challenging conventional wisdom and finding connections in the search for common ground.