Possibly the world's most Instagrammed festival, Coachella is currently taking place with legions of celebrities and influencers seen enjoying the desert festival, including Paris Hilton whose carefree frolics have been going viral.
The 40-year-old heiress was in attendance at the festival over the weekend and a clip of her skipping through the festivities as her bodyguard chases after her is racking up millions of views on social media.
The reality TV star and DJ was spotted frolicking at the festival in full Coachella regalia while her stern and dedicated security guard follows after her—clearly not enjoying himself as much as her.
One festival-goer, @megcross, shared hilarious footage of the moment to TikTok where the clip has now amassed more than 5.9 million views at the time of writing.
"The way Paris Hilton's bodyguard has to chase after her in the desert heat as she skips away," the video's voiceover reads.
Hilton herself commented on the video, responding with her catchphrase: "#Sliving." (Sliving is an amalgamation of the words "slaying" and "living your best life.")
Fans of the star are loving the viral moment with one comment reading: "She looks like she's having so much fun, bless her!"
While another joked, "I only want to see celebrity body guard footage from now on 😂 I do hope they're paid enough."
The original poster captioned the post: "Cardi B's bodyguard in the teacup vibes" in reference to another recent viral video of a celebrity and their bodyguard.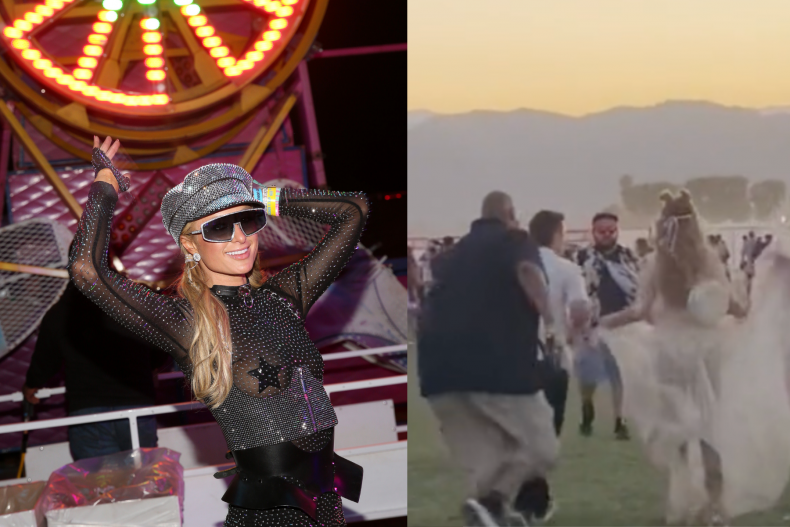 Rapper Cardi B made headlines in March when she was spotted on Disneyland's Mad Hatter's Tea Party ride with her 3-year-old daughter, Kulture, while her bodyguard rode miserably alongside them in a nearby teacup.
Earlier this year, Hilton released her podcast Trapped in Treatment about her and others' experiences at the Provo Canyon School in Utah.
Along with other former inhabitants of congregate-care facilities, Hilton aimed to examine the "dark secrets and controversial practices" of such schools in the podcast.
"Sharing my story publicly was the most healing experience of my life," Hilton told Newsweek in January.
"I created Trapped in Treatment to give survivors, employees and family members the opportunity to share their truth," she added.
"This is our war cry. Provo Canyon School won't be able to hide any longer. Listeners, buckle up and journey into the shocking world of Provo Canyon School with me."
In October last year, Hilton visited Capitol Hill to speak in favor of legislation to establish a bill of rights for teenagers in congregate-care facilities.