Gavin McInnes, founder of the Proud Boys, has announced that he is walking away from the group that he describes as "Western Chauvinists."
In a YouTube video posted to his page on Wednesday, McInnes said his departure was linked to the arrests of several members of the group for their involvement in a street brawl with a group of Antifa protesters after he gave a talk at the Metropolitan Republican Club in New York City in October.
"As of today, November 21st, 2018, I am officially disassociating myself from the Proud Boys, in all capacities, forever," I quit," McInnes said in the video. "I was told to use the term 'stepping down' but I refused because that makes no sense. I was never the leader, only the founder. Although, the media will likely say, 'Gavin McInnes Steps Down as Leader of Extremist Hate Group Proud Boys' because that's how they roll."
"I do this reluctantly because I see it as the greatest fraternal organization in the world but rumors and lies and bad journalism has made its way to the court system and the NYC9—the Proud Boys arrested after I did a talk here in New York—are facing serious charges," he said.
McInnes said his legal team and law enforcement told him that stepping away from the group could help to alleviate the sentencing of those who were arrested.
"At the very least, this will show jurors they are not dealing with a gang and there is no head of operations," he said.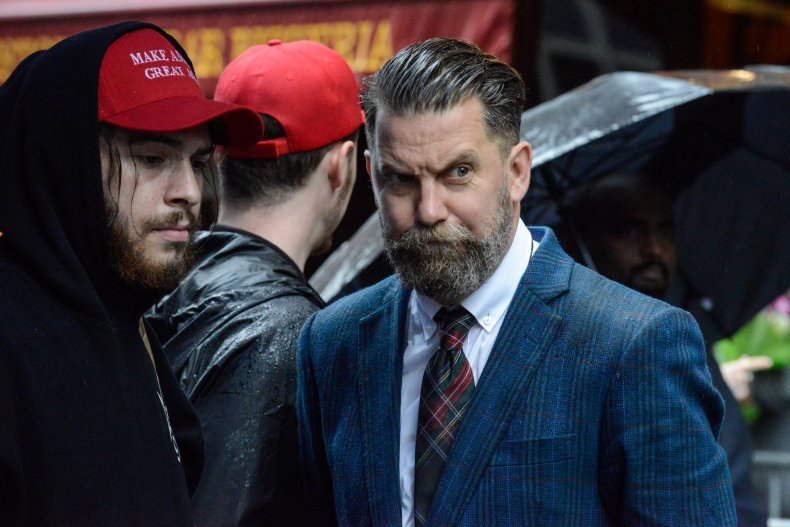 McInnes's latest move comes after leaked documents revealed that the FBI considers the Proud Boys an "extremist group" with "links to white nationalism." McInnes, however, denied any links to this ideology.
"We are not an extremist group and we do not have ties with white nationalists," he said. "We disavow all forms of alt-right, white supremacy, white nationalism etc. We are a multi-racial club with blacks, Jews, gays, Asians etc."
McInnes went on to say that the whole idea of "white nationalism and white supremacy was a cruck."
"Why are we talking about this so much? Such people do not exist," he said.
The Proud Boys—which has a presence in several countries, including the U.S., Canada, Australia and the U.K.—was founded in 2016 by McInnes to promote what he defines as "Western values." The organization only admits male members who usually wear black-and-gold Fred Perry polo tops.
According to McInnes's comments in the video, the Proud Boys was originally started as a joke.
"We started this club because a producer from my old comedy vid cast was a 24-year-old virgin who refused to quit porn."
But over time, the group has become more politically active, and its members are a frequent sight at right-wing events and rallies.