A group of protesters in Russia who interrupted the World Cup final with a pitch invasion got the briefest taste of freedom after spending two weeks in jail, walking out of prison and immediately falling under police detention again.
The three women, affiliated with political protest band Pussy Riot, rushed the pitch earlier this month, during the closing stages of the match between France and Croatia. Police quickly arrested them, charging them and another fellow protestor, Pyotr Verzilov, with improper conduct in attending a sporting event. They were barred from sporting events over the next three years and fined $24 each for wearing law enforcement uniforms during the protest.
Veronika Nikulshina, Olga Kuracheva and Olga Pakhtusova were due to walk free from their Moscow pre-trial detention facility on Monday. However, as other activists and reporters waited outside, a row of police officers surrounded the exit. Even before all three women made it out of the door, one of the officers approached Pakhtusova, informing the women that they were going back to detention—to her evident surprise.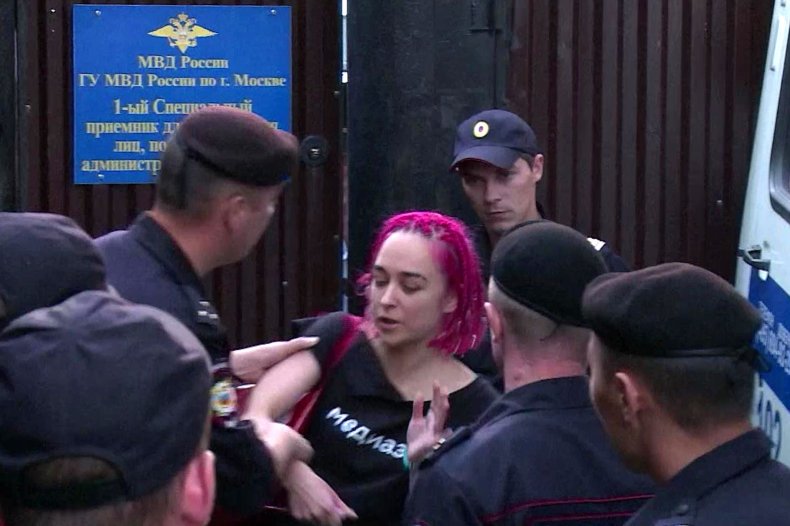 Video of the interaction showed police usher the three women into a black-windowed service van. As Kuracheva asks one officer for more information, including his name and ID number, his colleagues help him drag her by the arm into the vehicle.
Kuracheva tweeted later in the day that the three women were in custody at another police station near the Luzhniki Stadium, where they staged the pitch invasion. They are being held separately. "Now they will strip me, search me and take everything away," she wrote. "We have court tomorrow. You should come. Love to everyone." Verzilov also tweeted to confirm he has been detained again and will spend the night in custody.
The reason for the detentions is not clear. A "well-informed" source from Russia's Interior Ministry, speaking to state news agency Itar Tass on the condition of anonymity, confirmed the detentions but did not clarify why police felt they were necessary.
Related: Russia's church is a security threat to Ukraine, says president
Pussy Riot rose to prominence when three other members received jail sentences for protesting the state of individual freedom in Russia at Moscow's Christ the Saviour Cathedral. Nadya Tolokonnikova and Maria Alekhina, two of the women jailed then, both voiced support on social media for the four protesters following their protest at the final.
Russia has tightened laws on protesting and introduced a questionable provision, thanks to which multiple violators of public assembly laws can face up to five years in jail. Pussy Riot's protest during the World Cup final aimed to highlight police injustice and political incarceration in Russia.