Video Resurfaces of Fox Host Praising and Comparing Liz Truss' Plan to GOP
A video of Fox Business host Larry Kudlow comparing the economic plans of freshly resigned British Prime Minister Liz Truss to the Republican Party's "Commitment to America" plan has resurfaced online on Thursday.
Truss became the shortest-lived prime minister in the history of the United Kingdom on Thursday, stepping down just 44 days into her tenure.
Her decision to step down has been attributed to mammoth unfunded tax cuts that brought the pound down to its lowest-ever value compared to the U.S. dollar, resulting in a market frenzy that frightened investors and caused angst among citizens.
"The new British prime minister, Liz Truss, has laid out a terrific supply-side economic growth plan which looks a lot like the basic thrust of Kevin McCarthy's 'Commitment to America' plan," Kudlow said on September 23 in the video that was shared by the Twitter account MeidasTouch. "She is slashing tax rates and deregulating energy. I just love it. The liberal business media is now trashing her plan. That tells me Truss has it exactly right."
In another tweeted clip, which was also shared by MeidasTouch, Kudlow—who was Donald Trump's former economic adviser—said that "Liz Truss is basically operating a Reagan, Thatcher, Trump economic policy."
The "Commitment to America" plan rolled out by House Minority Leader McCarthy and other GOP House leaders in mid-September focused on an agenda including economics, safety, freedom and government accountability.
While touting views of a more secure U.S.-Mexico border and being pro-life, in addition to making crime a central component in key midterm campaigns, the GOP plan did not include specifics for how it would turn around an economy that is experiencing over 8 percent inflation and the fluctuation of pricing at the gas pumps.
Last month, House Majority Leader Steny Hoyer, a Maryland Democrat, referred to the plan as "long on slogans and short on details," and added that "the true details of Republicans' agenda are too frightening for most American voters."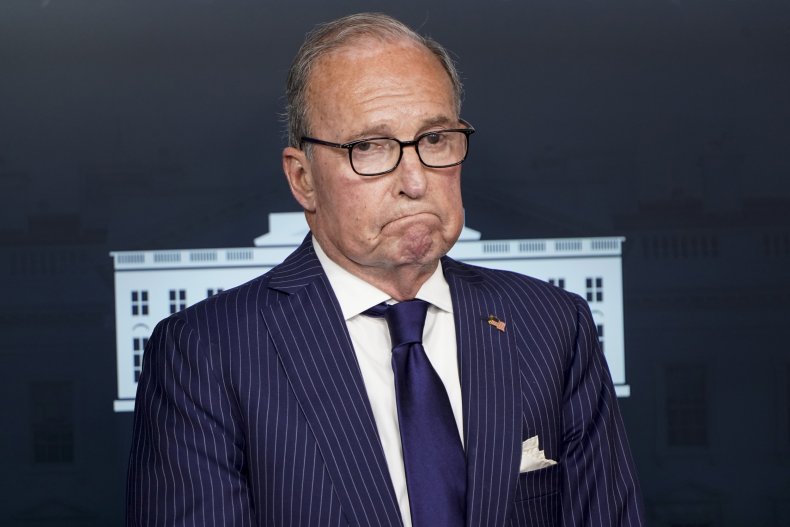 Patrick Brown, a fellow at the Ethics and Public Policy Center, wrote in a Newsweek op-ed earlier this month that McCarthy and GOP brass' comparison of the plan to Newt Gingrich's 1994 "Contract with America" agenda is not apt because the plan nearly 30 years ago actually included legislation.
"By contrast, McCarthy's 'Commitment' hovers comfortably at the 30,000-foot level of abstraction, offering vague sentiments and well-intentioned promises rather than specific pieces of legislation," Brown wrote. "Generalities won't cut it. To be compelling, a proactive policy agenda should address head-on the cultural and economic forces undermining America's families."
Meanwhile, Fox News' Chad Pergram wrote on Thursday that McCarthy has plenty of landmines he needs to avoid if he does elevate to the role of Speaker of the House.
That would hypothetically include how he handles the debt ceiling and government spending; whether the GOP would tackle entitlement and military spending; and if he and members of his caucus decide to forego large sums of security and economic assistance to Ukraine as McCarthy signaled earlier this week.
"If Republicans win control of the House, Republicans will likely choose McCarthy as House Speaker to 'deliver the mandate on which' they elected him," Pergram wrote on the Fox News website, a reference to Truss and her own mandate. "Trouble arises if McCarthy falls short. Don't forget that former President Trump casts a long shadow over McCarthy. An annex to the Speaker's office could well be found at Mar-a-Lago next year."
Biden Says Administration Is 'Rebuilding the Economy'
During remarks on Friday at the White House regarding historic deficit reduction, President Joe Biden said his administration is "rebuilding the economy in a responsible way."
He alluded to a record-high 10 million created jobs, a 50-year unemployment rate, and decreasing the federal deficit by $1.4 trillion—the largest one-year decline in American history.
Republican policies theoretically enacted if conservatives take over congressional majority in November would make current economic circumstances even more tumultuous, the president said.
"It's mega MAGA trickle-down—the kind of policies that have failed the country before and will fail it again," Biden added. "It'll mean more wealth to the very wealthy, higher inflation for the middle class. That's the choice we're facing. That's why I think that we're going to do just fine [in the midterm elections]."