Video Resurfaces of Kamala Harris Saying She Wants to Ban Fracking After Saying Biden Will Not During VP Debate
During Wednesday's vice-presidential debate, President Donald Trump tweeted a video of Democratic vice-presidential candidate Kamala Harris affirming that she would ban fracking. While discussing energy policies during the debate with Vice President Mike Pence, Harris indicated that Biden would not put an end to the practice of fracking.
Fracking is a means of obtaining oil and natural gas by shooting jets of water, chemicals and sand into the earth. Supporters of fracking tout the method's efficiency. Critics say fracking is an environmental hazard that has the potential of poisoning groundwater. Trump has claimed that Democratic presidential candidate Joe Biden would stop fracking, endangering industries that rely on fossil fuels.
"Joe Biden and Kamala Harris BOTH want to BAN FRACKING," Trump tweeted. Embedded in the tweet was footage of Harris from a September 2019 town hall meeting saying, "There's no question I'm in favor of banning fracking."
Newsweek reached out to the Biden campaign for comment.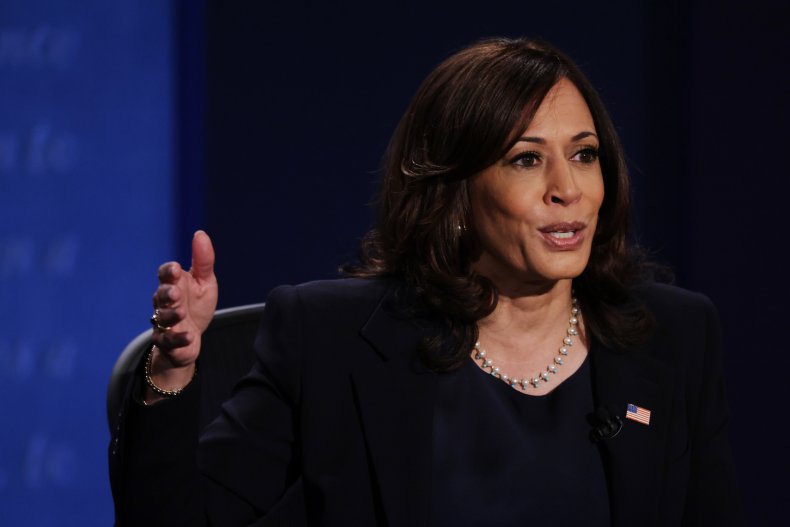 In comments from the town hall meeting not included in the Trump video, Harris said that people "have to just acknowledge that the residual impact of fracking is enormous in terms of the impact on the health and safety of communities."
During the debate, Pence said fracking was one of the factors that helped the U.S. reduce its carbon dioxide output. "We've done it through natural gas and fracking," Pence said, "which, Senator, the American people can go look at the record. I know Joe Biden says otherwise now, as you do, but the both of you repeatedly committed to abolishing fossil fuel and the banning of fracking."
Harris denied Pence's claims that Biden would stop fracking if elected president. "I will repeat, and the American people know," Harris said, "that Joe Biden will not ban fracking. That is a fact."
Harris's record on environmental issues shows a strong proclivity toward fighting climate change. Harris was a co-sponsor of the Green New Deal legislation proposed in 2019 by Massachusetts Senator Ed Markey. In August, Harris unveiled the Climate Equity Act which would create an office within the U.S. government to "measure the direct and indirect costs of environmental and climate regulations on frontline communities."
Trump's assertions that a Biden presidency could exclude fracking may stem from a March Democratic presidential candidate debate. Biden seemed to agree with Vermont Senator Bernie Sanders's call for an end to all U.S. fracking. When Sanders pointed out Biden's disagreement with his own policies, Biden restated his position to say "No more—no new fracking."
According to Biden's published platform, his energy plan says that no new fracking projects would be permitted "on public lands and waters."