Video Appears to Show Russian Convoy With Stolen Ukrainian Equipment
Kremlin-backed Chechen leader Ramzan Kadyrov's men are reportedly stealing Ukrainian agricultural machinery, according to a video posted by a Chechen opposition Telegram channel.
Amid recent reports that Russian forces have stolen "several hundred thousand tons" of grain in the areas of Ukraine they occupy, Telegram channel 1ADAT released a clip that it says shows equipment being taken by Kadyrovites—Chechen militias—to the territory of the occupied Chechnya. The video shows a long line of carrier vehicles and agricultural equipment, including tractors and spare tires.
"As you can see in the video, [it] is being taken to the territory of the occupied Chechnya under the protection of the local traffic police," the channel said.
Days earlier, on April 20, Iuliia Mendel, the former spokesperson to Ukrainian President Volodymyr Zelensky said on Twitter that Kadyrov, the strongman leader of Chechnya, stole agricultural equipment in Ukraine: three combines, a tractor, three seeders, and 20 tons of brand-name lubricants.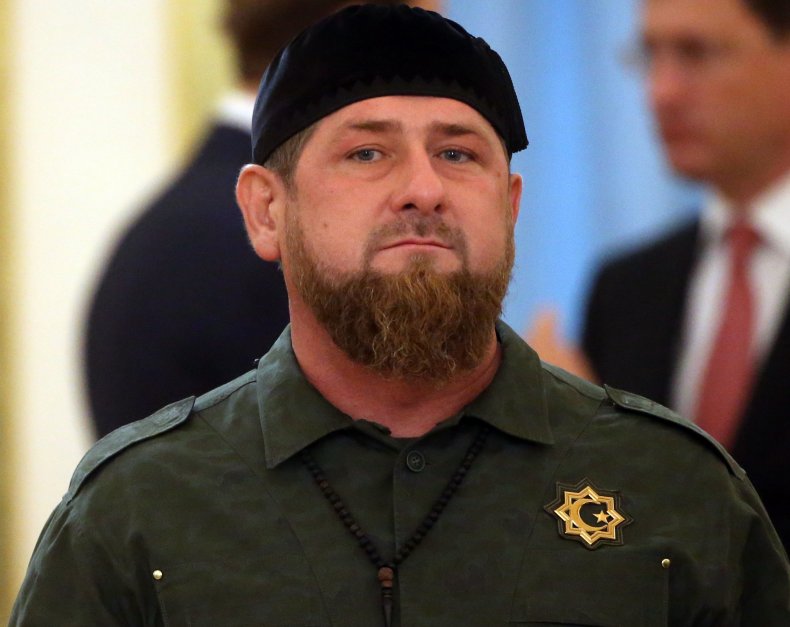 "The equipment is in Chechnya in the village not far from Grozny," she wrote, citing Ukrainian investigative journalists. "Judging by the address, the combines and tractor were brought to the territory of the liquidated 'Zakan-Yurt State Farm,' which is affiliated with the Kadyrov Foundation."
Ukraine's deputy agriculture minister, Taras Vysotskiy, in a television address on April 30 accused Russian forces of stealing grain in occupied territory. The Kremlin denied Ukraine's allegations.
The anonymous 1ADAT Telegram channel was created in April 2020 and serves as a platform for opposition information and propaganda, according to Radio Free Europe/ Radio Liberty. It often publishes reports that criticize Kadyrov and his associates.
The channel is often criticized by Kadyrov, a staunch supporter of Russian President Vladimir Putin, on Telegram.
Kadyrov was appointed president of the Chechen Republic in 2007, and regularly posts videos of his men fighting in Ukraine on his channel. He has been repeatedly accused by international NGOs of human rights violations in Chechnya. He denies the allegations.
CNN also reported Sunday that Russian forces occupying the Ukrainian city of Melitopol stole nearly $5 million of farm equipment from a John Deere dealership and shipped some of it to Chechnya. The stolen goods were then locked remotely, meaning the thieves were unable to use any of the equipment, the outlet reported, citing an unnamed Ukrainian businessman in the area.
Russian troops reportedly stole two compound harvesters, worth roughly $300,000 each, 27 tractors, seeders, and other pieces of equipment.
"When the invaders drove the stolen harvesters to Chechnya, they realized that they could not even turn them on, because the harvesters were locked remotely," the unnamed source said.
Newsweek was unable to independently verify the claims and has reached out to the Russian Ministry of Foreign Affairs for comment.