A California gun store owner believes he caught the moment he busted Sacha Baron Cohen in full disguise trying to fool him for the comedian's new sketch show, Who Is America?, on surveillance camera.
Norris Sweidan, who owns Warrior Guns & Ammo in Riverside, told FOX-11 that a man he believes to be Baron Cohen came into his store in February 2017 posing as a Hungarian immigrant looking to buy a gun. With him was a camera crew claiming to be filming a documentary.
"He comes in, off the bat you can see in the video I'm looking like, this guy does not look like a Hungarian immigrant. Tight ass leather pants, a beard. It just didn't fit," Sweidan said. "The moment his words came out of his mouth I was like this guy is full of shit...I just kept looking at the guy and I was like: You're Borat!"
Baron Cohen swiftly left the store without his producers—who then faced questioning by Sweidan. "We're talking to the people they don't wanna give us an answer. We basically told them to get the f**k out, you guys are all full of s**t, have a great day, get out," he said.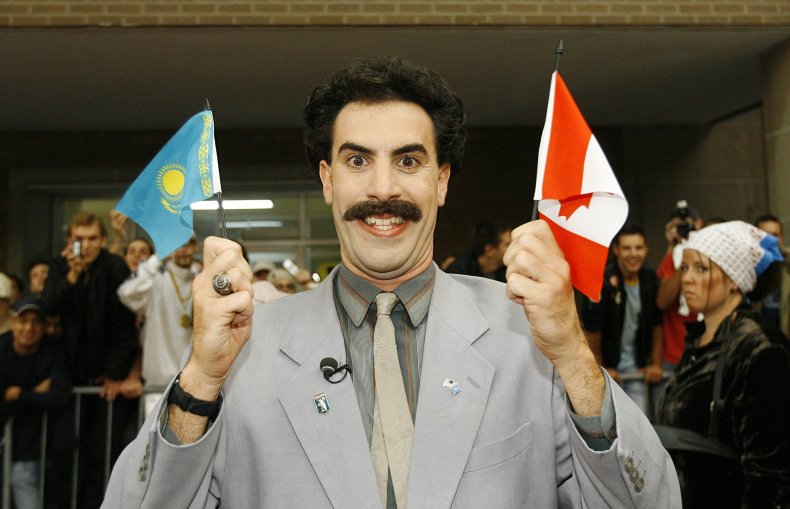 Who Is America? airs on CBS Showtime. In it, Baron Cohen dresses up as characters to fool people, including public figures, into embarrassing themselves. Among his victims are Sarah Palin, Bernie Sanders, and Dick Cheney, who Baron Cohen got to autograph a waterboarding kit.
In another sketch, Cohen fooled congressmen and gun rights campaigners to support a program that would arm toddlers in preschools.
At one point, Baron Cohen, dressed as an Israeli colonel who calls himself the "terrorist terminator," convinces gun campaigner Philip Van Cleave to appear in a spoof video teaching three-year-olds how to use guns to deter attackers at preschools. Cleave points a gun dressed as a rabbit, called a "gunimal," and instructs the infants how to shoot it.
"You've got some gun advocate holding a bunny on some gun," Sweidan said. "If you're a gun advocate, what the f**k are you doing holding a gun with a bunny on it? Really?"
"Once I knew it was Borat, we already know his game and his bulls**t," Sweidan added, "so we knew he's here to make a mockery, and of what? Gun owners? The gun business? gun shops?"
A spokeswoman for CBS said the network had no comment.