Video of Seth Rollins Attacked by Fan Watched 2 Million Times
Seth Rollins was attacked by a fan during WWE's RAW show at the Barclays Center in Brooklyn, New York on Monday night, and clips of the incident are racking up millions of views.
The WWE star—whose real name is Colby Lopez—was walking back towards the arena entrance after a match with wrestler Finn Balor when a fan appeared out of nowhere and tackled the fighter to the ground.
Footage from multiple angles is being shared on social media—showing the fan running from behind the crowd and leaping onto Rollins who falls to the ground and immediately holds the attacker in a headlock as security intervene, resulting in a short brawl right in front of the fan stands.
Security detained the fan and Rollins shouted at him but appeared unscathed and walked away.
The moment could be seen live on television at first but WWE cameras quickly cut away when it became apparent that the tackle was not part of the script.
Public Enemies Podcast shared a clip of the incident from the view of the wider arena that has 125,000 views at the time of publishing.
Meanwhile, Twitter user @kash_vL shared a close-up of the attack that has amassed almost one million views and user @visionembracer's close-up clip also has one million views.
WWE has released a statement following the incident, confirming that the man has been arrested by local authorities.
"WWE takes the safety of its performers very seriously," the statement reads. "The individual who attacked Seth Rollins has been turned over to the NYPD and will be prosecuted to the fullest extent of the law."
The fan has been identified by the N.Y.P.D. as 24-year-old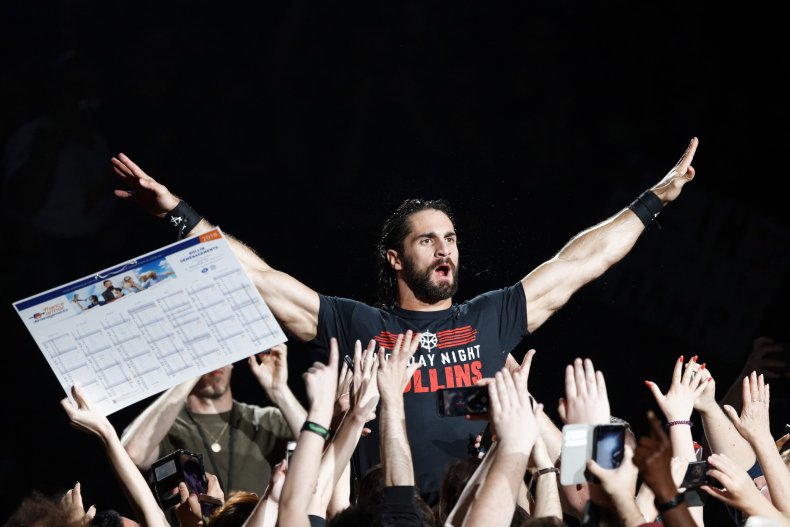 Spencer is charged with multiple charges as a result of the assault—attempted assault and attempted violation of arts and cultural affairs (disrupting live sporting event), according to police.
ESPN's Marc Raimondi has also confirmed that Spencer has been arrested.
"Elisah Spencer, 24, has been charged with attempted assault and attempted violation of arts and cultural affairs (disrupting live sporting event) for his attack on WWE wrestler Seth Rollins during the Raw television show Monday night at Barclays Center in Brooklyn, per the NYPD," he tweeted.
Rollins himself has yet to comment on the incident but appeared unscathed as he returned to RAW later in the night to confront Kevin Owens.
According to ESPN, the WWE star suffered swelling to his lip, but refused medical attention.