Video Showing Argument Over $2,500 Bill Leaves Viewers Stunned: 'Split It'
Viewers were shocked after watching a now-viral TikTok video that shows a group of people arguing over the $2,500 bill left for them after a birthday dinner.
Shared by @cookiedaboss_, the video amassed more than four million views and prompted commenters to weigh in on what they would do when faced with such a bill.
"When the tab comes back 2500 & people get [rowdy] because they are broke," read the text over the video clip.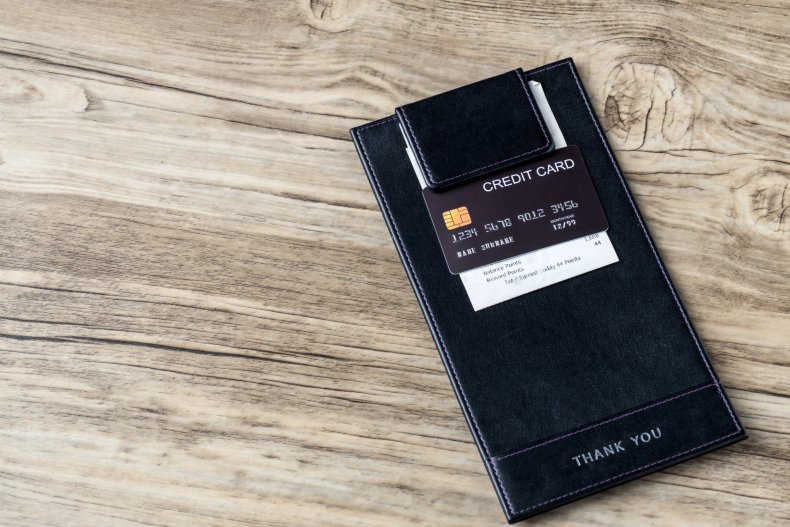 A piece published by U.S. News and World Report in 2016 discussed who is typically responsible for paying the bill during different outings.
Birthday dinners, for example, are typically left for the host to cover the tab.
If someone is hosting their own birthday dinner, Diane Gottsman—an etiquette expert—told the outlet that they are expected to pay the bill.
Jacqueline Whitmore, another etiquette expert, said "etiquette is situational" and may change depending on the circumstances.
In@cookiedaboss_'s video, a group of people is seen yelling at one another.
"Why are we arguing?" asked one woman in the video. "We have money. Why are we arguing? This is weird."
Commenters seemed to be equally confused by the argument seen in the clip.
"I would be so embarrassed," a viewer wrote.
"I would just evaporate because...in the restaurant?!?!?!" another comment read.
"Why not just pay for what YOU ordered?" one viewer asked. "I'm confused."
@cookiedaboss_ wrote that it was a more complicated situation, especially because they were at an upscale restaurant.
In a second video, she explained that she and her friend attended a birthday dinner for a person she met through Instagram, but the two arrived about an hour late. @cookiedaboss_ said the entire group waited for them to arrive before ordering their food.
While things were going smoothly at first,@cookiedaboss_ said she asked the person whose birthday they were all celebrating what he wanted. He first asked what her budget was before telling her he wanted her to pay for his meal.
"When the bill comes, everybody starts getting crazy, hectic, a commotion for no reason," @cookiedaboss_ said. "He's trying to fight his friends, he's fighting all his friends."
She noted that she did not know the other people at the party and was confused while the argument was taking place.
Other guests, @cookiedaboss_ said before concluding her video, said that she and her friend were the ones who had an issue with the bill. However, she said that she and her friend were prepared to pay for their meals.
Upon watching the video, some commenters wondered if the group expected @cookiedaboss_ and her friend to pay the full bill.
"He prolly told the whole gang buy whatever she paying," a commenter theorized.
The notion of getting separate checks was brought up in the comments section of this video as well.
"I'm definitely about to separate a check [I don't care]...YALL not running up a bag of food and expecting me to pay for it...nah they wrong!!"
Newsweek reached out to @cookiedaboss_ for further comment.
This is not the first argument that has gone viral.
A viral TikTok video shows the argument between a Wendy's employee and a customer, while another clip captured the moment that a woman lost control of her car in a Chick-fil-A drive-thru after she stepped out of it to argue with an employee.
One confrontation between a Burger King customer and employee was also captured and shared on TikTok where it later went viral.