Video Shows Alleged Training for Patriot Front Members: 'Cannot Imagine'
A video that allegedly shows a training program for participants of Patriot Front was shared on TikTok where it has since gone viral, amassing more than 300,000 views.
Tiffany Shirey posted the video to her account @its.tiff.again, and it drew a swift reaction from viewers who took to the comments section to share their thoughts.
Shirey noted at the start of the video she "could not tell you" where she found the clip, and Newsweek was unable to verify its origin.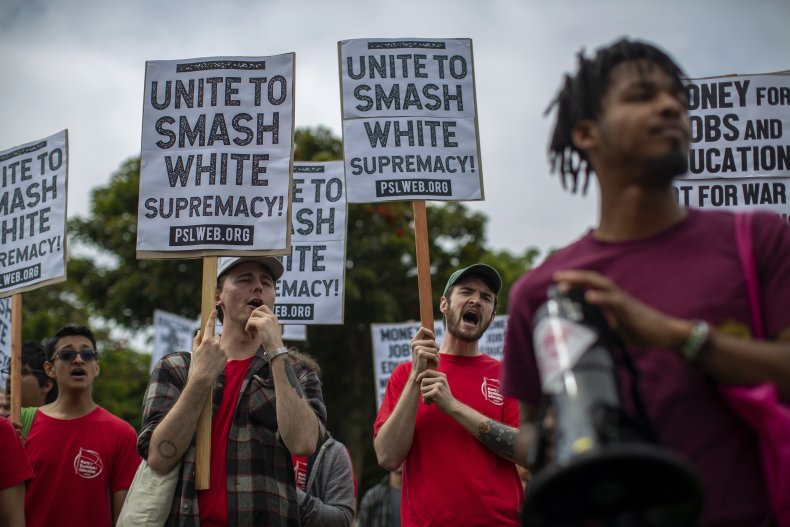 According to the Anti-Defamation League, Patriot Front is a white supremacist group.
"Patriot Front justifies its ideology of hate and intolerance under the guise of preserving the ethnic and cultural origins of its members' European ancestors," the ADL said.
On Saturday, 31 members of Patriot Front, including leader Tom Rousseau, were arrested, accused of conspiring to riot near a Pride event in Idaho.
In the video, a group is seen practicing marches, though they quickly fell out of rhythm when they were instructed to turn.
"It's not funny, but what the f**k?" Shirey said in her voiceover.
Viewers seemed to be just as taken aback by the video, and many mocked the participants.
"They think they are the Supreme race?" a viewer questioned.
"And these are the people who [are] gearing up for the next civil war," another commented. "Can't even walk in a line together."
One TikTok user called the group "military rejects."
"I literally cannot imagine using my free time like this," said another TikTok viewer.
Others criticized the group's marching abilities.
"My inner ROTC training is screaming on how terrible of a job they are doing," one viewer wrote.
"My marching band director would be horrified," a commenter opined.
"The marching band kid in me is dying laughing," wrote another.
Though many found the video amusing, some wrote that it wasn't something to joke about.
"The scary point is they came together under the same belief," a viewer commented. "That's not funny at all."
"And these people vote," wrote another TikTok user.
"What's sad is that these 'dorks' are dangerous," one wrote.
Newsweek reached out to Shirey for further comment.
In addition to Saturday's Pride event in Idaho, Patriot Front was previously linked to the vandalism of a "Black Lives Matter" flag at Xavier University in Cincinnati.
Extremist materials from the group were placed around the campus and a banner of the movement was found sliced.
After materials from the far-right group were found around the campus of the University of St. Thomas in Minnesota, staff and students rallied together to denounce racism and hate speech.