Video Shows Asian Woman Punched in Face by Man of Color in New York's Chinatown
A video taken in New York City's Chinatown neighborhood shows a dark-skinned man attacking an Asian woman within view of others.
New York State Assemblymember Yuh-Line Niou, who shared the video of the attack on her Twitter account Monday, said a constituent sent her the video.
The video shows two men eating in an outdoor sidewalk shelter. As an Asian woman walks on the sidewalk, a man in an orange hoodie seems to punch her in the face. The woman's head whips backward and her cap falls off her head as she grabs her face and collapses on the ground.
While a small group gathers to check on the woman, the attacker stays nearby.
Niou wrote that the suspected attacker had been arrested. She also said that precinct police are investigating. Newsweek contacted the New York Police Department for comment.
In New York City alone, police have investigated 42 attacks on Asian-Americans in the first quarter of 2021, a 223 percent increase over the 13 attacks reported during the first quarter of 2020, according to a report from the Center for the Study of Hate and Extremism at California State University, San Bernardino.
The rise in attacks mirrors a spike in anti-Asian hate crimes nationwide. In 2020, 122 incidents of such crimes occurred in 16 of the nation's most populous cities—a nearly 150 percent increase over 2019, according to the Center for the Study of Hate and Extremism at California State University, VOA reported.
Another group, Stop AAPI Hate, has tracked more than 6,600 reported attacks against Asian-Americans and Pacific Islanders since the start of the pandemic last March.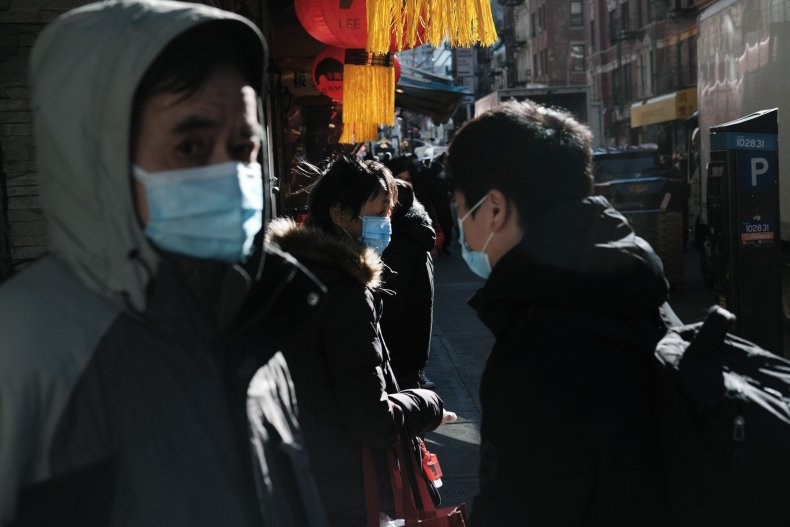 Democratic New York Representative Grace Meng and other anti-violence activists have blamed the pandemic-related anti-Chinese rhetoric of former President Donald Trump for the increase of violence.
"Enough of the demeaning usages of 'Chinese virus,' 'Wuhan virus' and 'Kung-flu,' especially from our nation's leaders, such as President Trump, GOP leader [Kevin] McCarthy and others," Meng said in September 2020, noting the rise in anti-Asian-American hate crimes.
However, Russell Jeung, co-founder of Stop AAPI Hate, told NBC News that he doesn't believe each attack is specifically fueled by anti-Asian racism. The extreme poverty created by the ongoing COVID-19 pandemic has also increased violent crime nationwide, he said. He also worries that media coverage of such attacks may inspire "copycat" attacks.
The NYPD created an Asian Hate Crime Task Force to address rising violence late last year. It includes 25 volunteer detectives who speak 10 Asian languages, the Times reported.
However, in September 2020, over 25 community groups signed an open letter opposing the task force's creation. The signers cited the negative effects that over-policing and increased incarceration can have on people of color.