Video Shows Bear Fleeing Caldor Fire Flames as Blaze Ravages California
A bear was spotted fleeing the flames of the Caldor fire as the blaze continues to wreak havoc across California.
The frightened animal was seen bounding along the perimeter of a fence in El Dorado County on Tuesday, seemingly in a bid to escape the encroaching fire.
"This bear was spotted running away from wildfire flames in California's El Dorado County on Tuesday," CBS 58 News tweeted alongside a 28-second clip.
The Caldor fire has been burning across the area of El Dorado County for close to three weeks, destroying more than 200,000 acres of land and threatening thousands of homes, according to the California Department of Forestry and Fire Protection (Cal Fire).
Evacuation orders have been issued for those in Alpine County, El Dorado County and the areas surrounding South Lake Tahoe, with thousands forced to leave their homes.
It's not only residents who have fled, but many animals caught up in the blaze have also been captured retreating from the affected areas.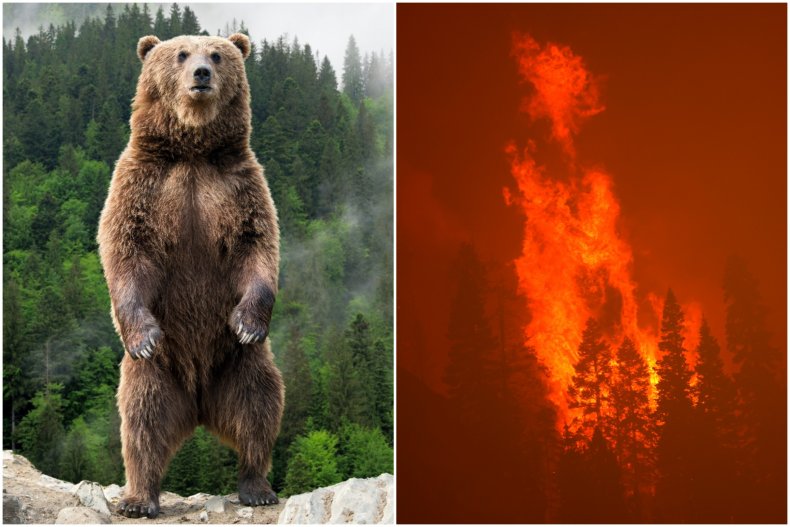 "After the Caldor fire burned behind a neighborhood in Meyers, firefighters came across an injured black bear," photojournalist Brontë Wittpenn tweeted Wednesday alongside photos of the bear. "The bear's paws were burned and managed to walk behind a home using its forearms. Firefighters reported the bear to animal control to check on it and its injuries."
"Stumbled upon a bear on my drive out of Lake Tahoe. I'm not a bear expert but I got to imagine these animals are under incredible stress. I wish there was more we could do for them," NBC Bay Area reporter Melissa Colorado posted alongside a video of the encounter. "I left out some water and here's hoping the Bear face finds it," she added.
Chief Thom Porter, director of Cal Fire, described the blaze as something "never seen before" and stressed the importance of early evacuations.
"There is fire activity happening in California that we have never seen before. The critical thing for the public to know is evacuate early," Porter said. "For the rest of you in California: Every acre can and will burn someday in this state."
The fast-moving fire grew more than 15 miles over Monday night, with strong winds pushing the flames across California highways 50 and 89 and sweeping down into the Tahoe Basin to approach the Nevada border.
The blaze expanded 7 miles in one direction in an area northeast of Highway 50 and more than 8 miles in another, fire officials said.
The fire's escalation prompted Nevada Governor Steve Sisolak to declare a state of emergency on Monday, citing "the anticipation" that the Caldor fire would burn across the state line from California.
The blazes have required the work of more than 15,000 firefighters, including crews from Utah, Washington, Wisconsin and West Virginia, Mark Ghilarducci, director of California's Office of Emergency Services, said.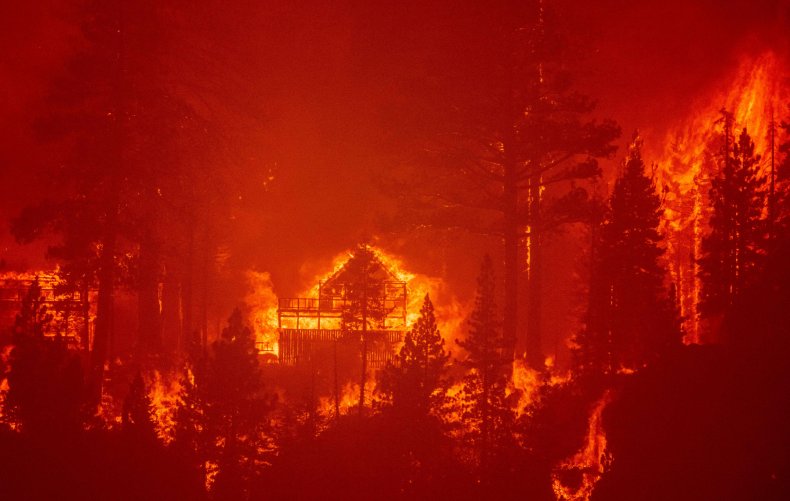 The fire is one of 13 blazes burning across the state of California that have so far destroyed more than 1.5 million acres of land, according to data from the National Interagency Fire Center.
At least 83 large wildfires that have destroyed more than 2.5 million acres are currently burning in the U.S. across 10 states after a heatwave and drought in early July caused blazes to break out across the West Coast.
Officials have stressed that the devastating effects of wildfires in the past few years have been exacerbated by climate change, which is likely to worsen in the future.
This message was echoed by California Governor Gavin Newsom earlier in August during a visit to the mountain town of Greenville, which saw several homes burned to the ground by the Dixie Fire, the largest blaze currently burning across the U.S. and the second-largest in California's history.
Last week, in reaction to the multiple wildfires burning in California, President Joe Biden approved a disaster declaration for the state just a day after Newsom asked for him to do so, allowing aid to be sent to areas to help them recover.