Video Shows Bear Strolling Down Aisle of Ralphs Grocery Store in Los Angeles Area
A video showing a black bear walking through a Los Angeles-area grocery store on Saturday has gone viral, being viewed more than 400,000 times.
The video, recorded by actress Tisha Campbell Martin, shows the bear strolling down an aisle at a Ralphs in Porter Ranch. In the video, another customer says to the bear, "Hi baby."
"Okay, I'm in my local Ralphs, and this happened," Campbell Martin says, showing the bear at the end of an aisle near and M&Ms stand.
A separate video obtained by KCBS-TV, the area's CBS affiliate, showed the bear roaming around some other aisles, while officers chase it out of the front doors of the grocery store.
Once the 120-pound bear was out of the store, it was then recorded in a construction area behind a nearby Walmart, where it hid under a trailer while officers waited for the U.S. Fish and Wildlife Services to arrive, KCBS reported.
Once they arrived, they tranquilized the bear to move it to a safe area in the Angeles National Forest, where they hope it will go deep into the forest to prevent other sightings.
"It was decided that the best route for not only public safety but also for the bear itself was to chemically immobilize the animal, which we were successful in doing," Lt. Jake Coombs, an officer with the Department of Fish and Wildlife, told the news station. "And it's on its way back to the Angeles National Forest for release to a suitable habitat."
Nobody was hurt in the incident, the station reported.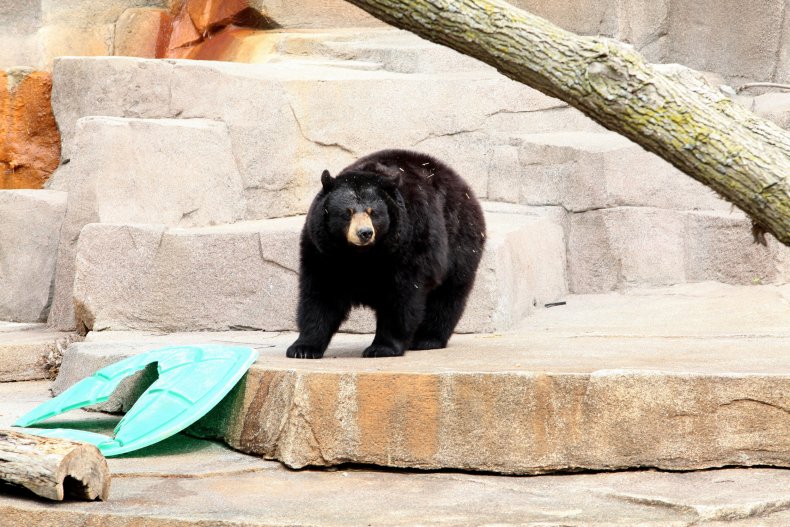 In total, three bears were spotted in the town center, KTTV-TV, the area's Fox affiliate, reported.
The encounter appeared to shock Martin.
"It's not like I'm in a secluded area," she said in the video.
Other shoppers were also shocked to see the bear, and some even tried to pet and feed it, KCBS-TV reported. David Balen, who is on the Porter Ranch Neighborhood Council, told the station that he thought the video was "amazing."
"I'm glad that nobody came in contact with the bear," he said. "Anything can happen."
Newsweek reached out to both Ralphs and Martin for comment, but had not heard back by publication.