Two people inside a helicopter were taken to the hospital after it crashed into the ocean in Miami Beach, Florida, on Saturday afternoon.
In a video capturing the incident that was posted online by the Miami Beach Police Department, the helicopter can be seen flying downward toward the water until it crashes, causing a large splash. The crash occurred close to people in the water, as well as small boats. Dozens of people can be seen on the shore of the beach when the crash happened.
"This afternoon at 1:10 p.m., MBPD received a call of a helicopter crash in the ocean near 10 Street. Police and Miami Beach Fire responded to the scene along with several partner agencies," the police department wrote on Facebook.
The department added that two occupants of the helicopter were transported to a local hospital and are "currently listed in stable condition."
Police also said that the beach "between 9 to 11 Street is currently closed."
Officer Ernesto Rodriguez, a public information officer for the department, said in an email to Newsweek Saturday afternoon that there are no new updates from the department about the incident and that the Federal Aviation Administration (FAA) and National Transportation Safety Board (NTSB) will "share further as the lead agencies."
In a statement to Newsweek, an FAA spokesperson said that at around 1:20 p.m. on Saturday, a Robinson R44 helicopter crashed into the ocean near Miami Beach "under unknown circumstances." The agency said three people were onboard the helicopter at the time of the crash.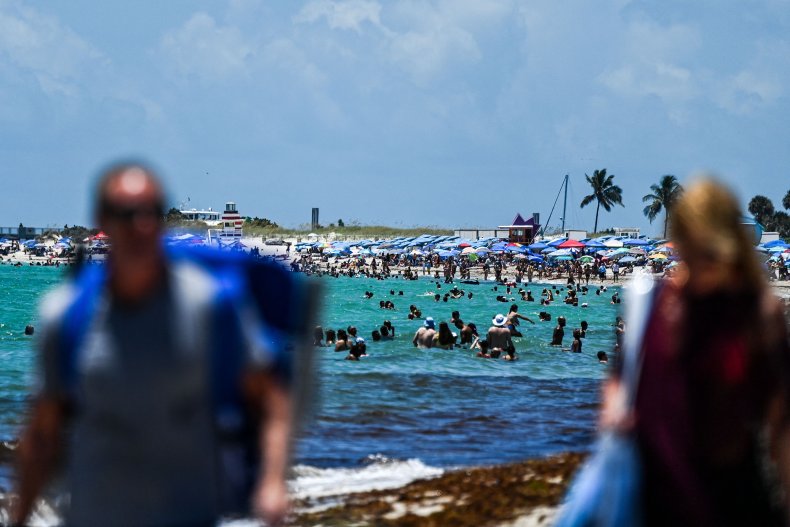 "The FAA and the National Transportation Safety Board will investigate. The NTSB will be in charge of the investigation and will provide additional updates," the agency stated.
The FAA said it doesn't identify people involved in aircraft accidents.
In a separate incident last month, a medical helicopter crash in Pennsylvania left several people injured, including a child. The crash occurred near a church, but at the time of the incident it appeared the building didn't suffer any damage. None of the individuals suffered life-threatening injuries, which a police official said was "an absolute miracle."
"Fortunately, this pilot did an excellent job of making sure there was no loss of life or any structural damage in this crash," Derrick Sawyer, the fire chief of the Upper Darby Township Fire Department, told Newsweek at the time.
According to AviationPros.com, in 2020 there were a total of 94 helicopter accidents in the U.S. In 2019, there were 121 helicopter accidents that occurred throughout the country.