Video Shows Huge Line of Travelers Lined Up at Orlando Airport Day Before Thanksgiving, Despite Pleas to Stay Home
A huge line of travelers were caught on video at the Orlando International Airport on Wednesday, despite please from the Centers for Disease Control and Prevention (CDC) and health care workers across the country urging Americans to stay home for Thanksgiving.
According to data released by the Transportation Security Administration, nearly 5 million people passed through airport security checkpoints between Friday, November 20 and Tuesday November 24.
Sunday marked the busiest day of air travel since the pandemic began in March, with the agency screening 1,047,934 people.
The numbers of travelers come as the U.S. continues to see a massive surge in virus cases. Over 1 million new cases were recorded over the past week alone, bringing the country's total to 12.7 million, according to data from the CDC and Johns Hopkins University.
On Tuesday, the U.S. logged its highest death toll since early May, with over 2,100 new fatalities, The Washington Post reported.
In light of these numbers, the CDC has urged Americans that the safest way to spend Thanksgiving is by staying home.
"As cases continue to increase rapidly across the United States, the safest way to celebrate Thanksgiving is to celebrate at home with the people you live with. Gatherings with family and friends who do not live with you can increase the chances of getting or spreading COVID-19 or the flu," the agency wrote on its website.
Dr. Anthony Fauci, the nation's leading infectious disease expert, told CBS' Face the Nation that people traveling by plane are going to cause trouble for the country.
"You see the clips on TV, people at airports. I mean, those are the things we've got to realize are going to get us into even more trouble than we're in right now," he said.
Fauci went on to explain that new cases from Thanksgiving travel won't be known for a few weeks, which could create even more issues as the nation heads into colder months and the December holiday season.
"One of the things we're really concerned about is that as we get into this Thanksgiving season, you're not going to see an increase until weeks later. Things lag," he stated. "So what you don't want to see is another spike in cases as we get colder and colder into the December and then you start dealing with the Christmas holiday. We can really be in a very difficult situation."
Nonetheless, an estimated 50 million Americans are expected to travel for the Thanksgiving holiday.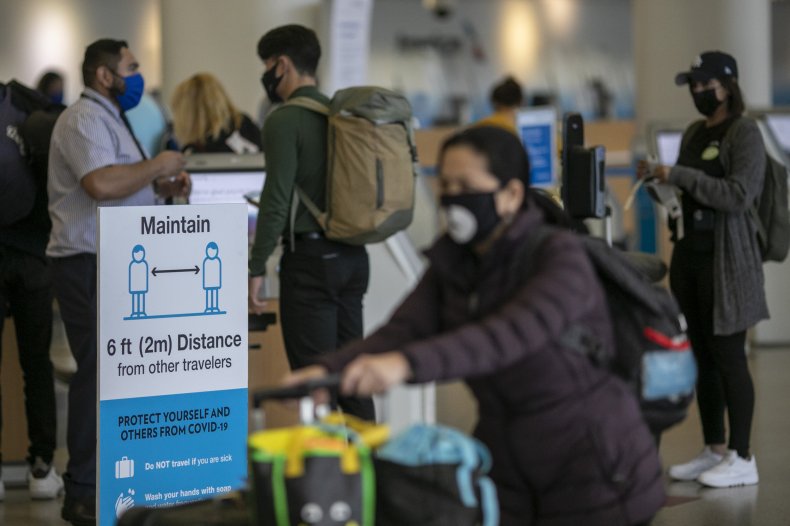 According to a poll conducted by the data and survey firm Dynata at the request of The New York Times, Louisiana and Oklahoma are the top two states where people said they intend on mixing households over the holiday period, with 35 percent stating they will. South Carolina followed closely behind with 34 percent.
The survey also found that the top 10 states in which people are most likely to avoid CDC guidelines each voted for Trump, highlighting a growing issue between the COVID-19 pandemic and politics.
Health care workers across the country have joined the CDC in issuing pleas to encourage Americans to stay safe and responsible for the holiday.
"We urge the public to stay home this holiday season, to make sure that this time next year no one is missing from the dining table," said Bonnie Castillo, a resident nurse and executive director of the National Nurses United, America's largest union of registered nurses, during a virtual conference.
"You need to listen to the nurses.... Social distance. Wear a mask. Avoid large crowds. I know the holiday season is upon us. Are you willing to give up one holiday season for 10 more?" added Consuelo Vargas, an emergency room nurse in Chicago.
For those who are planning to celebrate Thanksgiving outside of their homes, the CDC recommends wearing a mask with two or more layers, keeping a social distance of at least six feet from people you do not live with and washing your hands frequently with soap and water.
"Avoid going in and out of the areas where food is being prepared or handled, such as in the kitchen. Use single-use options, like salad dressing and condiment packets, and disposable items like food containers, plates and utensils," the agency added.