Video Shows 'Miracle' Horse Rescued 21 Days After Turkish Earthquake
Three weeks into the rescue efforts following the earthquake in Turkey, the discovery of a horse alive in the rubble is being hailed as a miracle.
The 7.8-magnitude quake struck Southeastern Turkey in the early morning hours of February 6, causing immense damage near the East Anatolian Fault line and creating tremors that could be felt in major cities to the west like Ankara, as well as in neighboring countries like Israel, Lebanon and Syria. As of Friday, Al Jazeera reported that the combined death toll in Turkey and Syria had surpassed 50,000.
Rescue efforts have been undertaken across the country, excavating the rubble of destroyed buildings and infrastructure to locate missing people and animals. On Monday, Turkish businessman Tansu Yegen shared a video on his Twitter account of a horse being pulled from the rubble 21 days after the initial quake, still seemingly alive and well.
"Amazing amazing amazing," Yegen wrote. "In Adiyaman, a horse found alive in the rubble of a building 21 days after the earthquake was rescued by the teams."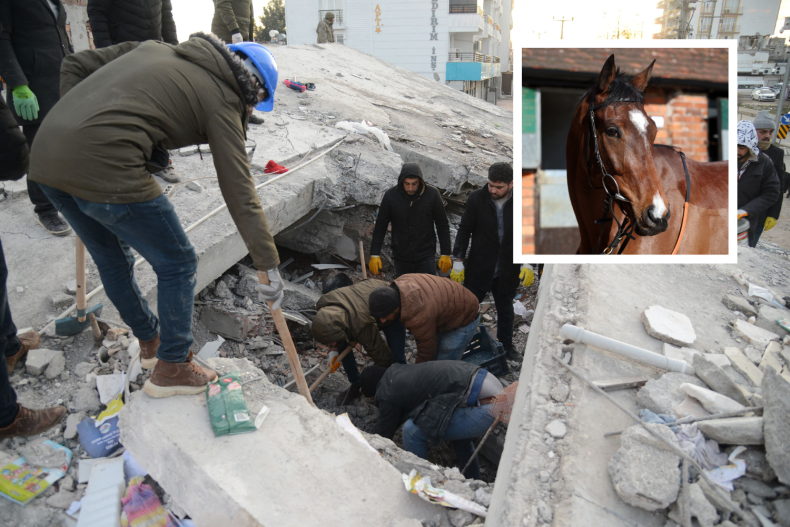 In the video, numerous people can be seen huddled around the rim of a sizeable hole dug into dirt and rubble, with an excavator visible in the background. A man can be seen at the bottom of the hole pulling on a rope, helping a brown horse free itself and clamber up out of the hole. Any adverse effects the animal suffered before being rescued could be discerned from the video.
Yegen claimed in his tweet that the video was shot in the city of Adiyaman, which is in Southeastern Turkey, close to the fault line that caused the earthquake.
As of Tuesday morning, the clip Yegen shared had been viewed on Twitter more than 2 million times and been retweeted by roughly 5,100 accounts. One of the notable figures to share the video was Anton Gerashchenko, an adviser to the Ukrainian minister of internal affairs.
"A horse was rescued from the rubble alive in Turkey, 21 days after the earthquake," Gerashchenko wrote. "Miracle!"
The Ukrainian official's tweet garnered an additional 105,000 views as of Tuesday morning and 1,100 more retweets.
Another video, circulated shortly after the quake by the Syria Campaign human rights group showed a young Syrian girl being rescued from rubble by a worker using their hands to move things away. The clip also showed her father arriving to comfort her.
Newsweek reached out to the Disaster and Emergency Management Authority of Turkey for comment.