Video Shows Moment Man Hit by Train While Taking 'Stupid' Selfie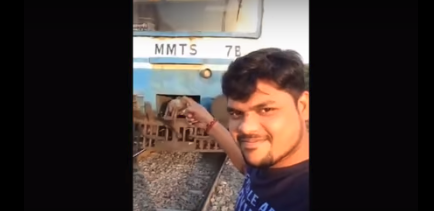 A shocking video has gone viral in India, showing the moment a young man is hit by a fast-moving train while posing for a selfie too close to the tracks.
The video of the stunt appeared online and was uploaded on Wednesday to YouTube, where it gained thousands of views. Many commenters derided the stunt as "the height of stupidity," which the man managed to survive, Gulf News reported.
Related: How Google's viral selfie app matches you to a famous painting—and why it's raising privacy concerns
The man, reportedly called Shiva, ended up in the hospital, escaping with only a few injuries. However, as the footage illustrates, the damage could very nearly have been much worse. In the video, which appears to be filmed on the phone of the victim, the man is seen standing right next to the track as a train approaches from a distance, blaring its horn.
Despite the warnings from the oncoming train, the young man remains in place, adjusting his smile and looking confidently into the camera. He can be heard to say nonchalantly "just one minute" as a friend talks off screen.
Warning—graphic video:
The train looks, from the angle of the camera, like it might just take a glancing blow at his hand, but at the very last second it hits the man square in the back of the head.
In the final, blurred frames of the video, it appears that the youth is hit to the side of the tracks, out of the path of the train, as his phone rolls away.
Police in Hyderabad, India, where the footage was filmed, have identified the man only by his first name, Shiva. He suffered injuries to his head and hands as a result of the stunt and was taken to a private hospital, where he was said to be in a stable condition.
The man attempted the selfie next to the tracks for the city's Multi-Modal Transport System, a part government-owned suburban line. He was reportedly near Bharat Nagar railway station, in the northeast of the city, when the incident occurred on Sunday.
In recent years, there has been an explosion of selfie-related accidents and deaths all over the world as social media users seek new and often dangerous photos to garner more followers.
One of the first instances of a selfie taker dying while snapping a picture was in 2014, according to the BBC. Researchers in the U.S. believe there were at least 127 selfie-related deaths between 2014 and 2016 globally. The majority of these took place in India, with nine reported in Pakistan.
Video Shows Moment Man Hit by Train While Taking 'Stupid' Selfie | World