Video Shows Naked Man Suspected of Entering Home and Killing Family's Parakeets
Surveillance video footage captured a homeless man breaking into a California home, walking around naked and allegedly killing two pet parakeets.
The break-in took place early Thursday afternoon in the Bel Air neighborhood of Los Angeles, local channel ABC 7 first reported on Saturday. The 34-year-old suspect, identified by the Los Angeles Police Department as Paul Kiyan, was captured on video as he walked around the home naked as one family member was upstairs. He reportedly accessed the home by using a garage door opener he found in an unlocked vehicle.
Kiyan could be seen in the footage getting in the pool and walking around in the backyard. When he entered the home, the man appeared to be wearing a towel as he wandered through the living room and kitchen. The owner of the home, Mat Sabz, was upstairs and alone at the time—but was notified by his wife who was able to observe the intruder remotely through the surveillance cameras.
"I went to the room, closed the door. I didn't know what else to do, so I went to the balcony," Sabz told ABC 7. "I opened the balcony. I jumped out of the balcony to my car barefoot. I ran and called the police."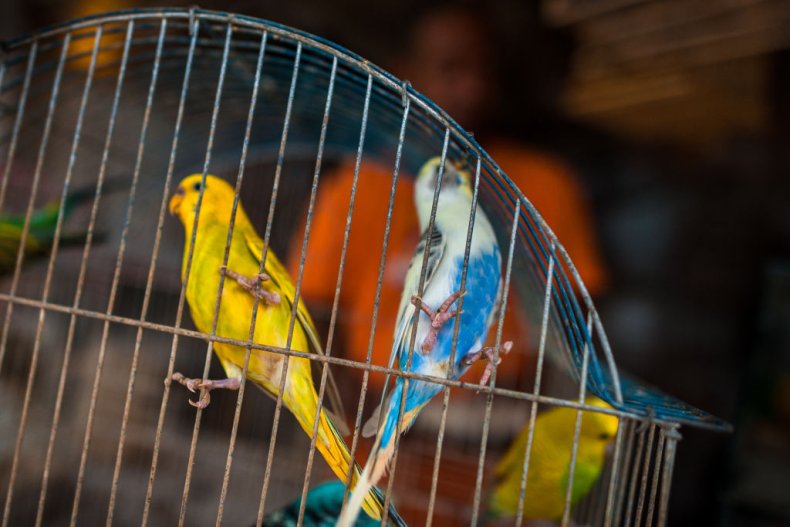 Through the home security system, Sabz' wife was able to alert the intruder that the police had been called. But the man went to the bird cage and then allegedly killed the family's two parakeets. In the video, Kiyan appears to throw them roughly to the ground and step on them.
"He went to the birdcage and violently grabbed our kids' birds and threw them on the floor and stomped on them," Sabz said. "My kids were the ones who found their dead birds with broken neck inside the house." Sabz said the incident was "extremely traumatizing" for him and his family, even though the others were not at home at the time.
The man was arrested by the LAPD and is facing burglary charges as well as charges of animal cruelty. Newsweek reached out to the LAPD for further comment but did not immediately receive a response.
The Bel Air crime is reminiscent of an incident that occurred in Florida back in June 2019. John Mehne, 25, crashed a stolen car and then fled the scene on the back of a pickup truck passing by. He was later found naked and hiding in a chicken coup after allegedly killing a pet dog.
"He was in the run of the chicken coop, totally naked, covered with mud and he was chasing the chickens. It was totally bizarre," an eyewitness said of Mehne at the time.