Video Shows Off-Duty Cop Kneeling on 12-Year-Old's Neck in Kenosha School
A redacted surveillance video released on Friday by a school district in Kenosha, Wisconsin showed an off-duty cop kneeling on a 12-year-old's neck as he was trying to help break up a fight between students during lunchtime.
The Kenosha Unified School District (KUSD) released the footage of the March 4 incident at Lincoln Middle School in response to a request by the girl's father, Jerrel Perez, the Milwaukee Journal Sentinel reported.
Police chokeholds have been banned statewide after Governor Tony Evers last year signed a bill into law, prohibiting the move except in life-threatening situations, according to the Associated Press.
Perez's daughter, whose name has not been released, can be seen in the video pushing another student who approached her before the fight broke out. Shawn Guetschow, the off-duty officer who was working a part-time security job with the school, then intervened to stop the fight by pulling the student off of the 12-year-old.
In the video, the 37-year-old appeared to be struggling with holding Perez's daughter before he fell to the ground and hit his head on a table.
He then pushes the girl's head to the ground and places her in a chokehold restraint, according to the report. Guetschow reportedly had his knee on the student's neck for around 25 seconds before he handcuffed her and escorted her out of the school cafeteria.
Perez said his daughter is currently in therapy and is treating her injuries at a neurologist. No details were revealed about the severity of those injuries. The girl was also granted a two-weeks medical excuse from school.
Perez's attorney, Drew DeVinney, told Newsweek that on Tuesday a lawsuit will be filed against the school district, Guetschow, and the Kenosha Police Department. However, he added that the lawsuit will be filed when Perez's daughter is recovered and ready for this step.
DeVinney said this was an "unacceptable act against a child."
"This was a 12-year-old girl and there's no justification for applying your bodyweight" on her body, the attorney said.
Perez's lawyer couldn't disclose details about the events that led up to the incident, citing client confidentiality. However, he said she was approached by a group of students who wanted to fight her but she "defused" the situation. Still, one of the students returned and the fight broke out. He added that no details were revealed about what the students were saying before the fight.
Following the incident, the school district placed Guetschow on paid leave, but he later resigned from his job with the school on Tuesday.
However, Perez thinks more actions should be taken against Guetschow. He said Guetschow should be charged for restraining his daughter that way, but no details were revealed about charges yet.
"Looking at that picture, it destroyed me. All it takes is just a little bit, especially for a 12-year-old girl. We've seen a grown man die from that same situation, just imagine a fragile 12-year-old's neck," he told CNN on Tuesday, in an apparent reference to George Floyd, who was killed by Minneapolis police officer Derek Chauvin. The former police officer kneeled on Floyd's neck for nearly 9 minutes.
Guetschow claimed in his resignation letter to the school district that KUSD didn't support him, and that the incident impacted his family.
"Given the events that have taken place and the escalated attention this incident at Lincoln Middle School has caused in the community, mental and emotional strain it has brought upon my family, and the lack of communication and or support I have received from the district, I can no longer continue my employment with the Kenosha Unified School District," he wrote to Kenosha Superintendent Beth Ormseth, according to the Milwaukee Sentinel Journal.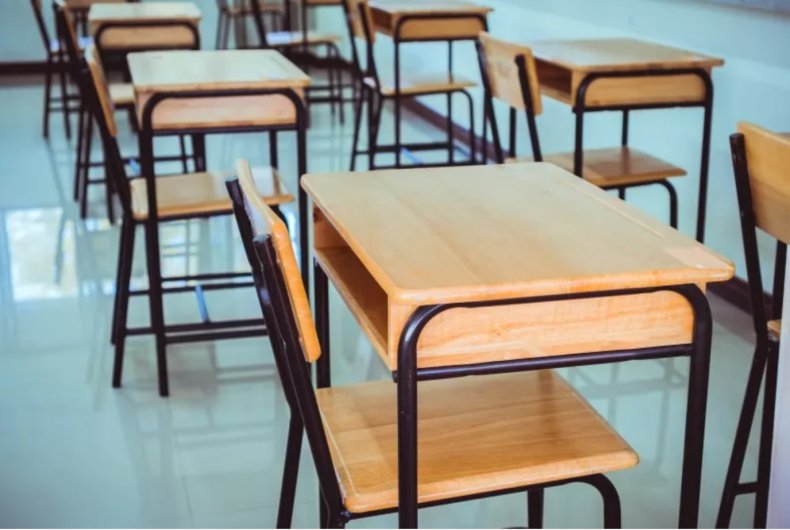 According to the news outlet, DeVinney also argued that Guetschow was acting in an on-duty capacity the moment he placed the girl in a chokehold restraint.
The lawyer added on Wednesday that the girl was defending herself from being bullied and said that "at no point did Jerrel's daughter push or strike at this officer." He also alleged that the 12-year-old yelled out that she couldn't breathe while Guetschow's knee was on her neck.
Newsweek reached out to the school district and the Kenosha Police Department office for comments.