Exclusive: Video Shows Austin Police Kneeled on Teenager's Neck During Arrest a Day After Saying Such Restraints Would Be Banned 
Police in Austin, Texas detained a teenager by kneeling on his neck during a protest—the same form of restraint that led to George Floyd's death and sparked a nationwide reckoning against police brutality.
Jarrid Cornell was arrested on Friday night for obstructing a highway, a spokeswoman for the Austin Police Department (APD) confirmed to Newsweek.
Video footage of the moment officers detained Cornell, live-streamed by Hiram Gilberto Garcia, shows several officers restraining the 19-year-old shortly before midnight. Police are seen arresting Cornell from around the 40-minute mark of the livestream.
Cornell's attorney and witnesses told Newsweek that an officer had kneeled on the teenager's neck while detaining him and described the force used during the arrest as "excessive."
It came a day after Austin Police Chief Brian Manley announced during a news conference that chokeholds and neck restraints would be officially banned by the department.
Cornell's attorney Marc Chavez said his client, who is white, had been protesting peacefully when officers detained him—and added that two officers already had Cornell pinned on the ground when a third officer put a knee to his neck.
"This past week, Chief Manley announced they were banning chokehold/neck restraints," Chavez said in a statement to Newsweek.
"It is disappointing to see that an APD officer, this weekend, used the same 'knee to the back of the neck' technique used to kill George Floyd. It's even more aggravating knowing that two other officers already had Mr. Cornell restrained when this third officer put his knee on my client's neck."
Floyd died on Memorial Day last month after a white Minneapolis police officer kneeled on his neck for almost nine minutes as he gasped for air. His death sparked weeks of protests across the U.S. and calls for police departments across the country to be defunded.
Chavez added: "This force was clearly excessive and unnecessary given that Mr. Cornell was exercizing his First Amendment rights in a peaceful manner.
"We expect officers to be more cognizant of these techniques especially in light of Chief Manley's ban on neck restraints. This weekend's action against my client was a failure of that expectation."
A spokeswoman for Austin Police said the incident is under review. "Any time an officer uses force, it is reviewed by their chain of command to determine whether it was lawful and within policy. The incident is currently undergoing that process," she told Newsweek.
"We encourage anyone with information that could aid in that review to reach out to the City of Austin Office of Police Oversight."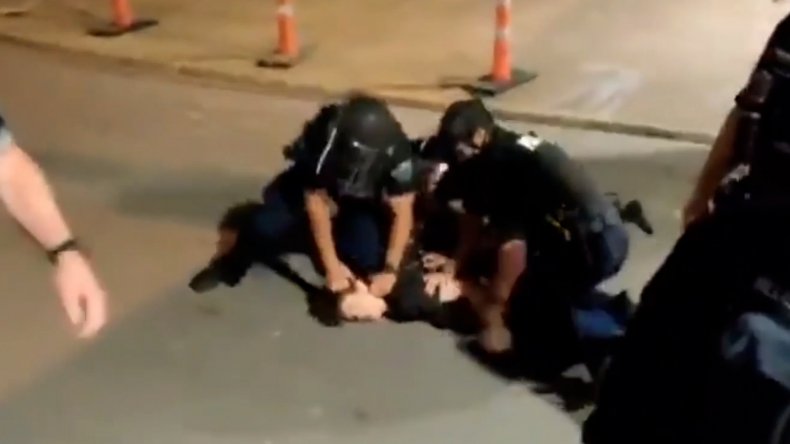 Last Thursday, the Austin City Council and Mayor Steve Adler approved five items to reform the city's police department, which included a ban on the use of chokeholds and strongholds.
The move also banned shooting at moving vehicles as well as the use of tear gas and munitions at crowds expressing First Amendment rights, the Associated Press reported.
Justin Howell, a 20-year-old black protester, was left with a fractured skull and brain damage after police hit him with "less-lethal" munition during a protest outside the Austin Police Department late last month.
Kevin Mercer, who witnessed Cornell's arrest on Friday, told Newsweek that police had blocked the road in front of the Austin Police Department during protests for two weeks and not opened it up until after protesters left the area.
But on Friday night, Mercer said officers decided to open the road while protesters remained at the scene. "Eventually everyone moved off to the side to avoid being arrested, Jarrid [Cornell] came off to the side where I was and was in the crowd when the cops just charged all of us and started chasing him," he said.
"One of the cops eventually caught up, grabbed him and threw him on the ground extremely aggressive. After getting him on the ground they used the neck restraint/hold that was banned a day previously by Austin Police Department."
He added: "At the same time, they grabbed another girl out of the crowd and threw her violently on the ground in a display of aggressive use of force. One of our local independent reporters was filming the entire incident and the cops started attacking him as well, shoving and pushing him and eventually grabbing him trying to take him down as well until we intervened and pulled him away."
Some witnesses told Newsweek that police appeared to deliberately target Cornell, who has become known to officers during protests. Cornell was arrested after police said he struck a police horse with a sign during a protest on May 31, according to Fox7.
But his friend Eli Winkelman said video of the moment shows that Cornell was almost trampled during the encounter.
Mercer said APD Assistant Chief Jennifer Stevenson was quoted by some protesters as saying: "Why don't they arrest that joker in the middle of the road already" in reference to Cornell.
"I asked her why they opened up the road at that time when there was no reason to, why they attacked a local independent reporter, and what they were going to do about it but she just stared at me dumbfounded." Austin Police did not respond to Newsweek's query about Stevenson.
Winkelman said that officers "specifically" targeted Cornell on Friday night and "definitely" used more force than necessary when arresting him. She said he weighs about 120 pounds.
"He's been engaging in civil disobedience and it appears he annoyed the police," she said. "Lots of people have been going into the crosswalk on the access road in front of APD," she added, but "they decided to arrest Jarrid specifically."
"They've been watching him all week and they should know he has no violent intentions, so to throw him to the ground and use three of them to hold him down is definitely overdoing it," she added.
Court documents said police had issued a five-minute warning for protesters to clear the intersection near the police department's headquarters on Friday night, according to KXAN.
The documents say that around the four-minute mark, most protesters shifted to the sidewalk but some allegedly remained on the road, including Cornell.
According to the documents, Cornell ran when officers tried to detain him and one officer caught up to him, "grabbed his backpack that he was wearing and conducted a takedown."
Winkelman said Cornell only "started running away when he turned around and saw five officers running at him," adding that she had raced to the scene when she heard about what had happened.
"In addition to the knee on his neck, he felt pressure on his back at the same time," Winkelman said.
"He got freaked out by that so he tried to lift his head and they slammed it into the ground. Then when they got him up, they wouldn't let him walk and instead dragged him down the block. When they finally got to the garage, they let him walk but his feet had already been hurt by being dragged."
Iana Wi, who also witnessed Cornell's arrest, told Newsweek the night had started peacefully with a candlelit vigil for Floyd and other victims of police brutality.
But she said the crowd were "agitated" by police as the night went on.
"It started as a peaceful vigil so the mood was more cheerful and less tense than it had been the nights before," Wi said. "But we could tell the police were going to do something because they were gathering in large groups in a dark alleyway nearby."
Wi said protesters had yelled at police as officers counted down to making arrests, but the crowd remained peaceful.
"Eventually everyone left the street the last minute, so they couldn't be arrested," Wi added. "So it seems like the officers were disappointed they couldn't make arrests and went after Jarrid who has been a key member of the protest."
Wi noted that officers used excessive force to restrain Cornell despite being aware that protesters were filming during a demonstration sparked by police killings of black people.
"This is a small kid. I am a small female, I'm 5'4 and 130ish lbs at most... he was about my height and weighed less. There was no reason for the amount of people that tackled him," she said.
"This kid is light skinned AND the police knew a bunch of people were filming, and this kid was still treated this way. It's horrific to know it's even worse when no one is watching."
Winkelman said Cornell was released on bail at around midday on Saturday.
"He's in good spirits. He knows a lot of people were rallying around him, and he said it's great to see people caring so much for each other and that's what this is all about," she added.