Video Shows Police Retreating From Protesters Hurling Objects After Fatal Shooting of Walter Wallace
A video clip widely circulated on social media shows a large group of Philadelphia Police officers running away as a crowd of demonstrators hurl objects at them amid protests in the wake of the shooting death of Walter Wallace, a 27-year-old Black man, in the Pennsylvania city.
Wallace died after being shot by police on Monday afternoon. In a video of the incident that has gone viral, Wallace can be seen in the street of a residential neighborhood as two police officers point their guns at him. The officers fired multiple shots at Wallace, who police said was holding a knife, The Philadelphia Inquirer reported.
Demonstrations erupted in the city on Monday evening, continuing into the early hours of Tuesday morning. In a clip from the Philadelphia protests shared on social media, a large unit of officers—some carrying riot shields—can be seen retreating down a street past a McDonald's while a group of protesters hurl objects at them, as smoke billows in the background.
An off-camera voice can be heard cheering for the demonstrators while laughing. "That's what I like," the male voice says.
Newsweek reached out to the Philadelphia Police Department for comment but did not hear back in time for publication.
At least 30 police officers were injured during the demonstrations, according to local ABC News affiliate WPVI-TV. One officer was hospitalized and was reportedly in stable condition with a broken leg. The other 29 officers reportedly suffered minor injuries. About 10 people were arrested in connection with the protests, and 20 others were detained for looting.
Although Black Lives Matter and anti-racism demonstrations have taken place for years, the movement gained heightened national attention following the May 25 death of George Floyd in Minneapolis police custody. Floyd, a Black man, died after an officer kneeled on his neck for nearly nine minutes—an incident that was captured on video and shared widely on social media.
In the wake of Floyd's death, Black Lives Matter demonstrations erupted nationwide. Protesters have called for an end to police killings and abuse, pointing to systemic racism in the U.S. justice system. The 2020 protests have been described as the largest civil rights movement in history, as demonstrations were held across the country and around the world.
Ben Crump, a prominent civil rights attorney who has represented Floyd's family as well as many others with family members who have died after interactions with police, commented on Wallace's shooting in a Monday evening Twitter post.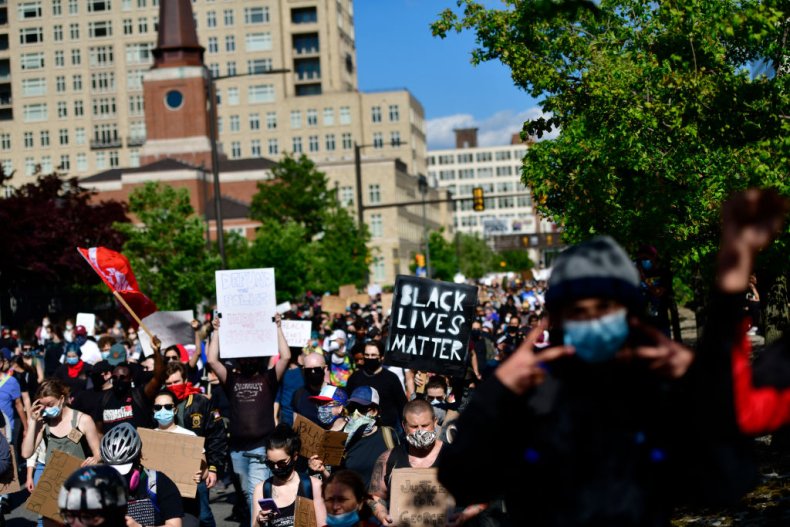 "Philadelphia cops fatally shot Walter Wallace Jr. today, firing 10+ times at him while he stood at least 10ft away. He allegedly had a knife but cops made NO attempts at de-escalating the situation in this video. They went straight to killing Wallace in front of his loved ones!" Crump tweeted.
Early Tuesday morning, the official Twitter account for Black Lives Matter tweeted: "#JusticeForWalter Praying for his mother."
On average, approximately 1,000 people are killed by police in the U.S. each year, according to a study published in the Journal of Urban Health in March. The research showed that Black, non-Hispanic individuals are about two times more likely to be killed by police in "legal intervention homicides" as "compared with their representation in the general U.S. population."