Video Shows Russian Helicopter Obliterated by Overhead Strike: Ukraine
Video released from the Ukrainian front shows a local artillery corps purportedly blowing a Russian helicopter out of the sky, adding to the growing list of aircraft lost by Russian forces since the war began in February 2022.
The shaky, low-quality video, posted on Facebook by a group calling itself the 14th separate mechanized brigade named after Prince Roman the Great, appears to show the "Princely Warriors" destroying an MI-24 helicopter over the snow-covered landscape, crashing to the ground in a ball of fire.
It is unclear where the strike took place. According to the post, the helicopter likely contained military leadership, noting that lower-ranking soldiers tend not to fly around the battlefield.
"This will be the case with every occupier on our Ukrainian land!" they wrote.
Newsweek has contacted the Russian Ministry of Defense for comment.
According to estimates shared by the Ministry of Defense of Ukraine on Thursday, the helicopter strike likely represents Russia's 285th downed chopper since the war began, bringing the total number of aircraft lost by Russian troops to well over 2,000, including drones and warplanes.
It's a loss Russia can ill afford. Its air industry already in shambles amid the war and a tanking reputation abroad, Russia still has 3,829 aircraft in its active inventory, according to estimates by the World Directory of Modern Military Aircraft, of which approximately 1,364 are helicopters.
However, it's the ones it has lost that matter most. The MI-24—the Russian military's second-best copter—has been downed nine times since the war's start, according to news reports, while the Ka-52, reportedly Russia's best, has been taking the most losses of Russia's helicopters, largely due to a sufficient lack of air support.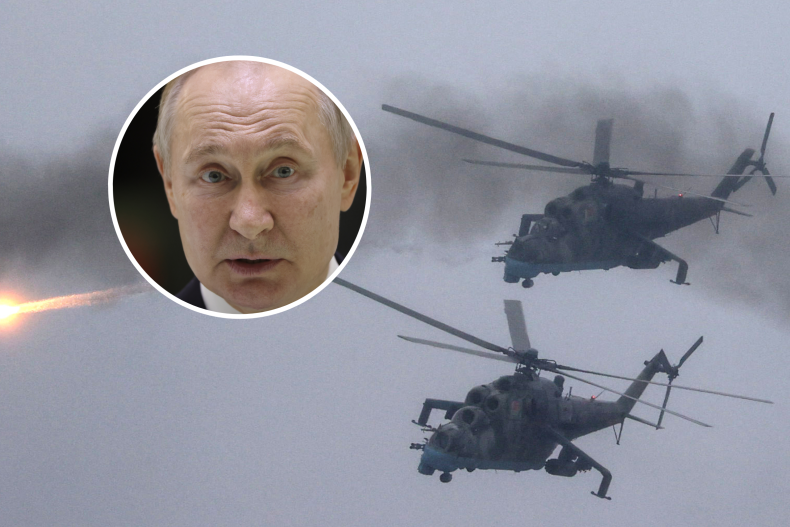 As of October, the British Defense Ministry said that at least 23 Ka-52s had been shot down since February 2022, representing roughly one-quarter of the country's inventory.
Meanwhile, Ukrainian President Volodymyr Zelensky has begun ramping up pressure on Ukraine's Western allies for NATO-standard fighter jets like the F-16 and the Swedish Grypen to overpower Russia's air force amid longstanding concerns of a jets shortage.
However, those have stalled over diplomatic concerns of escalating the war, prompting some to consider novel solutions like "leasing" an air force to overcome worries of foreign involvement.
"As long as Russia continues to attack, we will continue to adapt and moderate the necessary military support to preserve Ukraine and its future," Zelensky said in Brussels on Thursday.