Video Shows Six Flags Crowd Flood Exit After Shooting
Video shared on social media showed the moment a large crowd moved towards the exit of an amusement park following a shooting.
Three people were injured in a parking lot outside Six Flags Great America in Gurnee, Illinois, after shots were fired from a vehicle on Sunday, police and the park said.
Officers "immediately responded" after receiving multiple 911 calls about shots fired at around 7:50 p.m. local time, the Gurnee Police Department said in a news release.
An initial investigation found that a white sedan had entered the Six Flags parking lot, drove towards the front entrance where suspects exited the vehicle and began shooting at another individual in the parking lot. "The suspects got back in the white sedan and quickly left the area," police said.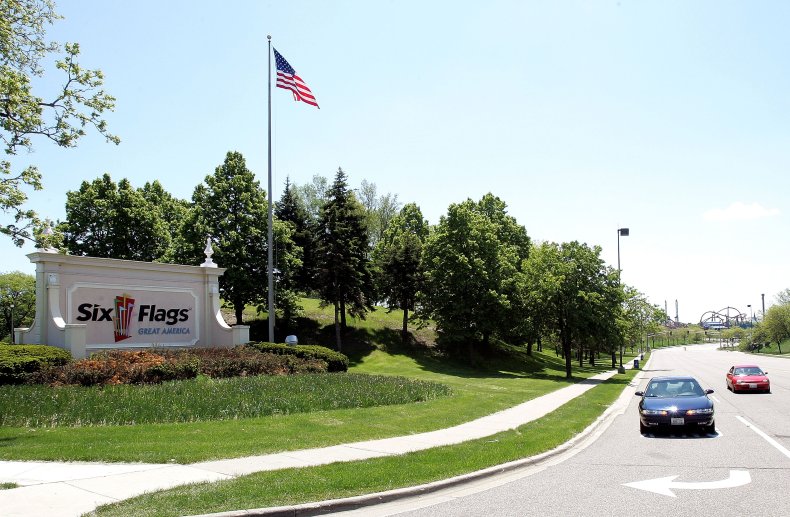 Two people—a 17-year-old male from Aurora, Illinois, and a 19-year-old woman from Appleton, Wisconsin—were transported to the Advocate Condell Medical Center with injuries that are not life-threatening, police said. A third person who sustained a shoulder injury declined transport to the hospital.
The park closed early with staff and visitors escorted out by police officers, a park spokesperson told WLS-TV.
A video posted on social media appeared to show groups of people huddling together inside the park, with the person who posted it describing the situation as "a mass shooting scare."
Another video showed a large crowd of people moving to leave the park, with sirens from police cruisers flashing in the distance. "Something definitely happened," the Twitter user wrote. Newsweek has contacted them for further comment.
Laurie Walker told WGN News that she and her daughter, Grace, were inside the park when the shooting occurred.
Walker said they were waiting in line for the "Ricochet" attraction at around 7:50 p.m. when she noticed panicked people running.
"There is an active shooter, get down, get down," Walker said she heard someone yelling. "We didn't know what was going on, so we get down."
Walker said she and her daughter climbed two fences to get "out of plain view" and to a place where she could call her husband.
She told the station that they were able to leave the park a short while later.
Gurnee police said the shooting "was not a random act, and appeared to be a targeted incident inside the park."
"This was not an active shooter incident inside the park," police said.
The incident remains under investigation, police added.
Gurnee is located about 20 miles north of Highland Park, where seven people were killed in a mass shooting during a Jury Fourth parade.
The Gurnee Police Department and Six Flags have been contacted for further comment.