Video of Small Child at Astroworld Before Deadly Stampede Viewed 3M Times
A video of a young child at the Astroworld music festival before Friday night's deadly stampede has sparked outrage and debate on social media.
Eight attendees died and hundreds more sustained injuries, after a crowd surge toward the stage at the NRG Park stadium in Houston, Texas, led to a mass crush among the approximately 50,000 attendees.
Festival headliner Travis Scott, who was on stage at the time of the surge, is now facing multiple lawsuits. Drake, who joined Scott on stage as a surprise performer, has also been sued in the aftermath.
Following the show, Houston resident Ashley Acosta took to TikTok to share a brief video of a young child held in an adult's arms within view of the stage at the show.
Captioning the clip, Acosta wrote: "Still Can't believe this little toddler was here ... everyone was trying to protect him once it got crazier but it was hard to get out."
The camera then panned to show the dense crowd raucously singing along to the music as a pyrotechnic display lit up the stage. The young child was seen being lifted into the air in the midst of the crowd as the music played.
Since its upload in the days that followed the festival, the video has been viewed more than 3.6 million times and shared across other social media platforms. The video can be viewed here.
When the clip made its way to Twitter, it was met with a barrage of criticism, with one detractor writing: "I'm sorry but there is no reason why nobody under the age of 16 shoulda been at astroworld. They had toddlers in that b**** and all wtf."
The sentiment was echoed by a number of other Twitter users, prompting one to point out the fact that Scott likely appeals greatly to a young audience, thanks to his marketing deals with the likes of McDonald's and Fortnite.
Addressing Scott's notoriety for inciting chaotic behavior at concerts, the same Twitter user added that parents who took their children were likely unaware.
"Some parents had no idea abt Travis Scott concerts," they tweeted. "Seriously. I didn't know he did all that rage crap beforehand either. Just saying. I mean I wouldn't let my kid go even still. But it said ALL ages. That's some messed up $h*t."
Another Twitter user shared a screenshot showing that there appeared to be no stipulations regarding the age of attendees.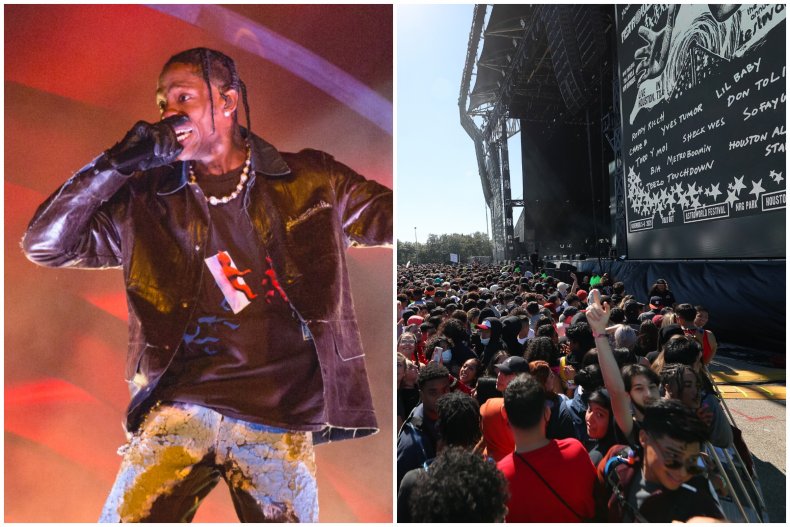 A 9-year-old boy was put into a medically induced coma after being left seriously injured in the deadly crush at the concert.
Ezra Blount was on his father Treston Blount's shoulders at the concert. Amid the crowd surge and crush, Treston Blount passed out and fell with his son. When he regained consciousness, he couldn't find his son.
"The crowd just started going crazy and Treston goes, 'I can't breathe. I can't breathe,'" Ezra's aunt, Taylor Blount, said in an interview that aired Tuesday on NBC's Today show.
Taylor Blount said that doctors revealed the child suffered from severe brain swelling and went into cardiac arrest either at the concert or en route to the hospital. She also said that he suffered damage to his lungs, liver and kidney.
The Blount family has now retained the services of high-profile civil rights lawyer Benjamin Crump, who said in a statement: "The suffering that this family is going through is immeasurable.
"This little boy had his whole life ahead of him—a life that is currently hanging in the balance because of the reckless mismanagement that ensued at the Astroworld Festival."
Following the festival, Scott said in a statement on Twitter over the weekend that he was "absolutely devastated" as he addressed the tragic events.
"My prayers go out to the families and all those impacted by what happened at Astroworld Festival," he said. "Houston PD has my total support as they continue to look into the tragic loss of life.
"I am committed to working together with the Houston community to heal and support the families in need. Thank you to Houston PD, Fire Department and NRG Park for their immediate response and support. Love you all."
It was announced on Monday that Scott will cover all funeral costs of the attendees who died, and provide also free one-on-one online therapy for others affected.