Video of Trump Telling McDonald's Crew He 'Knows Menu Better' Seen 1M Times
Footage of former President Donald Trump touting his knowledge of the McDonald's menu while visiting a restaurant in East Palestine, Ohio, has been viewed over 1 million times.
Trump told employees that he knew what was on the restaurant's menu "better" than they did on Wednesday while visiting a McDonald's in the eastern Ohio village, near the site of a toxic train derailment earlier this month.
A clip of the moment captured on video and shared to Twitter by The Recount had been seen more than a million times as of Wednesday evening.
"What's your specialty today?" Trump asks McDonald's staff during the video as they greet him at the ordering counter. "Hello everybody. That's a nice, beautiful group of people."
"So, I know this menu better than you do," he continues, prompting nods of agreement from the workers. "I probably know it better than anybody in here."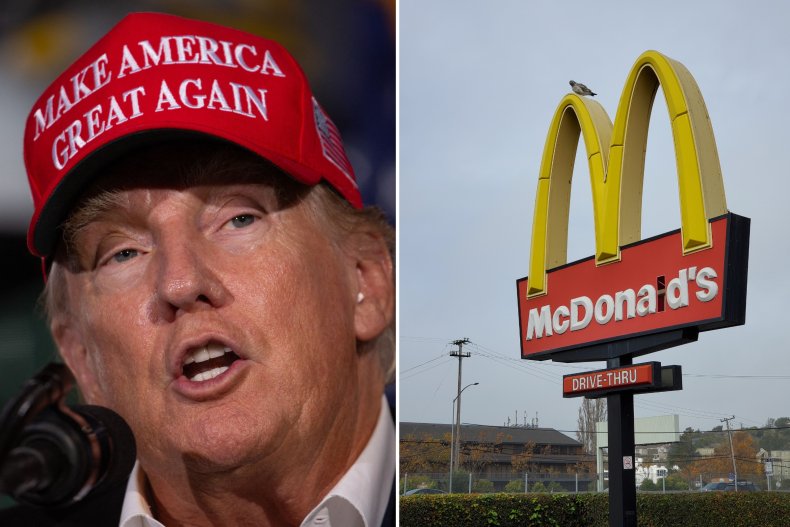 The short clip concludes as the former president goes on to say that he is "going to take care of" paying for the food of local police and fire department workers who accompanied him.
The clip was shared to Twitter by several other accounts and on other platforms, reaching far more than the over 1 million views of the video tweeted by The Recount.
Video of the moment was also aired Wednesday on popular Fox News show Tucker Carlson Tonight. Host Tucker Carlson promoted the clip as a "treat," maintaining that it displayed the "huge threat" of the former president's charisma.
"Whatever you think of Donald Trump, when he's unleashed in a crowd of people, he's pretty unbelievable," said Carlson. "If you haven't seen the tape of him ordering at McDonald's in East Palestine, treat yourself. He wows everyone in the room."
"You don't have to love Trump to know he's really good at this," he continued. "And it's real. He feels it, that's why he's so good at it. So, he's a huge threat."
Other footage of Trump at the McDonald's showed the former president greeting his supporters and handing out red "MAGA" hats.
In addition to visiting locals at McDonald's, the former president brought East Palestine residents several pallets of his own bottled and branded "Trump Water" on Wednesday, inspiring some mockery and praise online.
Trump's long love affair with McDonald's has been well documented, with the former president even serving the fast-food burgers to White House guests during his time in office.
According to journalist Michael Wolff's 2018 book Fire and Fury: Inside the Trump White House, Trump "liked to eat at McDonald's" in part due to a "longtime fear of being poisoned" by other food.
Trump purportedly demanded McDonald's fare after complaining that he was "not going to eat any f****** raw fish" during a 1990 trip to Japan, according to the book Lost Tycoon: The Many Lives of Donald J. Trump.
Newsweek has reached out to Trump's office and McDonald's for comment.