Video of Tucker Carlson Making Light of Teacher Raping Teen Boy Resurfaces
After urging parents to "fight back" against the "sexualizing" of children," Tucker Carlson is being excoriated online after old clips resurfaced of the Fox News personality downplaying two incidents in which female teachers molested teen male students.
Two left-leaning Twitter accounts on Thursday posted clips of appearances where Carlson minimized two high-profile stories involving sexual contact between teachers and underage students. The clips resurfaced days after Carlson denounced what he called the overt sexualization of children, which critics said encouraged violence against the LGBTQ community and educators.
The Serfs, a news commentary podcast, posted to Twitter a partial transcript of an appearance Carlson made in April 2006 on the Bubba the Love Sponge Show, a Florida-based radio program. During the jovial exchange, the two discussed a case in Delaware in which a female teacher was accused of having sex with a 13-year-old student 28 times in one week.
ChudsOfTikTok, a Twitter account often critical of conservatives, also posted a link to an audio recording of the interview.
"When a 13-year-old boy is 35, he can barely remember the girls he slept with when he was 13," Carlson said during the broadcast.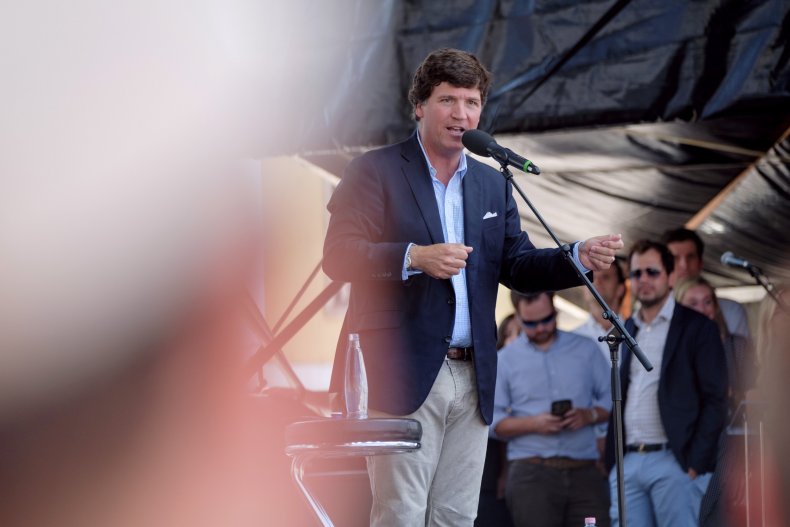 Carlson later added, "So my point is that teachers like this, not necessarily this one in particular, but they are doing a service to all 13-year-old girls by taking the pressure off. They are a pressure relief valve, like the kind you have on your furnace."
The following year, the elementary school science teacher, Rachel L. Holt, was sentenced to 10 years in prison after pleading guilty to second-degree rape.
ChudsOfTikTok also posted a video of a 2014 Fox News segment where Carlson defended a teacher who gave a lap dance to a 15-year-old boy in front of his class.
Saying "legitimate opinion divides" whether the lap dance was appropriate, Carlson shocked his other Fox News panelists by saying, "there's no victim here," adding, "this is the dream of a 15-year-old boy."
Both of Carlson's comments had previously been criticized by the left-leaning Media Matters of America, Salon and others.
Carlson on Tuesday ran a segment on his Fox News show criticizing a transgender teacher, showing her wearing large prosthetic breasts, who had discussed LGBTQ issues with her students. The broadcast also took aim at health care workers who provide gender-affirming surgeries for transgender people and have experienced harassment.
"What you're seeing is a society that hates children," Carlson said. "You would have to hate children in order to sexualize them."
He added, "sexualizing children screws them up for life—ask anyone to whom it has happened—period. No one should put up with this."
"Tucker Carlson, who is currently pushing hard to 'protect children' by targeting children's hospitals with harassment and bomb threats, saying that teachers sleeping with their students are "doing a service" to us," Twitter user Asmodean reacted to one of the uncovered clips.
Jordan Chariton, CEO of progressive media group Status Coup, responded with a tweet saying, "Tucker Carlson is pro-groomer," referencing a term conservatives have used to accuse opponents of sexualizing children.
Newsweek has reached out to Fox News for comment.