Tucker Carlson Telling Parents to 'Fight Back' Against Teachers Condemned
Tucker Carlson has been strongly criticized after the Fox News host urged parents to "fight back" against teachers engaged in what he described as the "sexualizing" of children.
Carlson criticized a transgender teacher and showed footage of her wearing large, prosthetic breasts. He also played clips of teachers talking about how they had discussed LGBTQ issues with their students and compared it to meeting a stranger in the park.
"If you were walking through the park with your kids and a stranger came up and started talking to them, say to your fifth grader, your five-year-old, even your 14-year-old about sex, what would you do? Well, you would call the police, of course. That's not allowed, it's a crime," Carlson said.
"But teachers are allowed to do it and then to brag about it. And it's not stopping with classroom instruction. All over the country. Adults are forcing children to attend drag shows," he said, criticizing taking children to the events.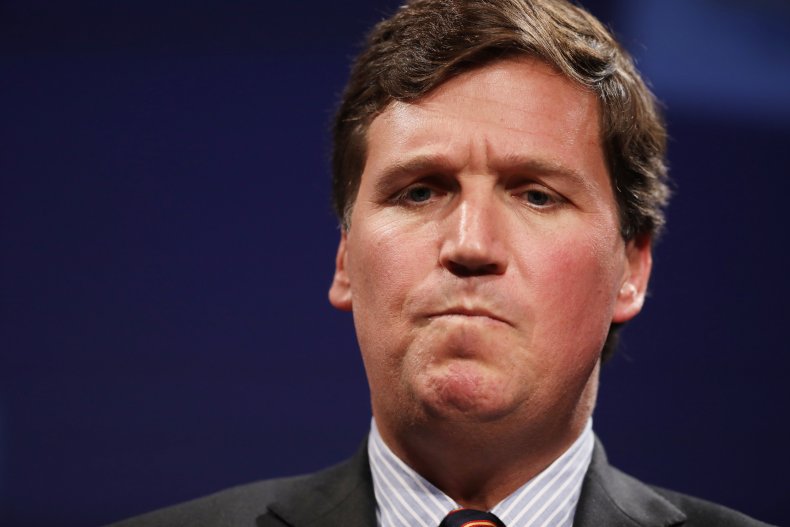 He also showed part of an MSNBC interview about threats and abuse directed at healthcare workers who perform gender-affirming surgeries and responded to the interview by saying: "They're being mean to doctors who castrate children, who cut the breasts off girls."
He went on to say: "What you're seeing is a society that hates children. You would have to hate children in order to sexualize them."
"Because sexualizing children screws them up for life - ask anyone to whom it has happened - period," Carlson said. "No-one should put up with this. No parent should put up with this for one second, no matter what the law says. Your duty - your moral duty - is to defend your children. This is an attack on your children and you should fight back."
Kat Abughazaleh of Media Matters for America, who shared a clip of Carlson's comments to Twitter, wrote: "Tucker Carlson is openly calling for violence against teachers and LGBTQ+ people."
Other Twitter users also weighed in on Carlson's comments, with some sharing Abughazaleh's tweet, and others an article on his remarks published by Media Matters.
"I can't emphasize enough that Tucker Carlson is going to get LGBTQ people killed," tweeted writer Charlotte Clymer.
"Ignore Tucker Carlson at your own peril," wrote Justin Baragona, media reporter with The Daily Beast. "He's now spent years whipping up his large audience into a frothing rage, directing their increasing anger at teachers, doctors, scientists and marginalized communities."
"This will not end well -- and the Murdochs have to know this," he wrote, referring to the Murdoch family, which runs Fox News' parent company, the Fox Corporation.
Journalist Jordan Chariton tweeted that Carlson was "clearly calling for violence against LGBTQ+ people, parents, and doctors who provide gender affirming care."
Newsweek has asked Fox News for comment.