Videos: Neo-Nazi Patriot Front Marches in Indiana Yelling 'Reclaim America'
Members of the hate group, Patriot Front, were seen marching in downtown Indianapolis on Saturday afternoon as they chanted "reclaim America," according to videos circulating online.
A number of videos appeared on Twitter showing the group marching together, with some beating on drums while others carried signs and could be heard chanting. One video of the march was posted by Twitter user @pope_brendictus, who called the group "Nazis," gained 1.7 million views as of Sunday afternoon.
The group published videos and updates about their march on their Telegram channel, including one post that read: "#PatriotFront activists are currently marching in Indianapolis, IN in recognition of Labor Day."
According to the Patriot Front's website, Indiana, Pennsylvania, Oklahoma, Massachusetts, and Michigan are their top five states for all their activities.
On Saturday, Destiny Wells, a Democrat running for Indiana's secretary of state, tweeted: "I heard there were 30 cosplaying racists down the street earlier today, while there were hundreds of pro-union folks a block away celebrating LaborFest. This is literally fascism versus democracy. The choice isn't hard. #VoteBlueIn2022."
Wells was standing a few blocks away from the march where she was attending a rally held by groups supporting unionization on Monument Circle, local news station WISH-TV reported.
"People in Indiana and across the nation are absolutely aghast at this blatant demonstration of neo-fascist ideals without regard for civilized American society as we know it today. History has taught us of the KKK's similar tactics of marching down the Main Streets of Indiana—and the march's hateful propaganda was met with disgust," Wells told Newsweek on Sunday.
In a sperate press release emailed to Newsweek, Wells' media office stated that the Democratic candidate condemns the march, "which has led to outcry from Hoosiers across the state—in a display that again puts Indiana in the national spotlight during a historic election year, exposing efforts designed to systematically tear down America's electoral system."
"I do not believe their objectives will ever have a place in civilized American society," Wells said.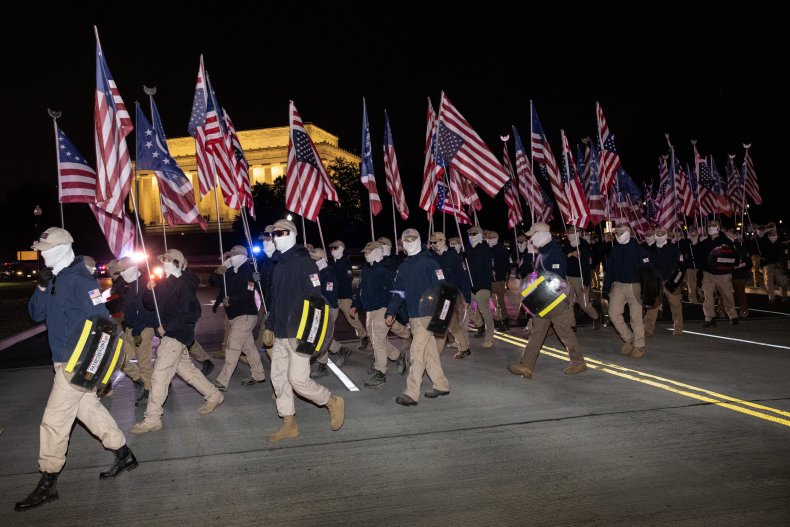 Who Are the Patriot Front?
Patriot Front is a Texas-based white supremacist group that disbanded from another white supremacist group and neo-Nazi organization, Vanguard America, in September 2017, following the "Unite the Right" rally in Charlottesville, Virginia, according to the Anti-Defamation League (ADL).
"Patriot Front justifies its ideology of hate and intolerance under the guise of preserving the ethnic and cultural origins of its members' European ancestors," according to the ADL.
Characterized by the Southern Poverty Law Center as a "white nationalist hate group," Patriot Front uses "theatrical rhetoric and activism" to tout the idea of establishing a white ethnostate in the United States.
According to the group's manifesto, "the State was founded on liberal ideals, even from inception, but many acts of the people counteracted its original foundation and ensured a White American homeland for a time. However, due to the basis of the State's founding, these bulwarks against the eventual degeneration of the Republic were temporary and ultimately futile."
In June, a viral video allegedly showed members of Patriot Front participating in a training program where they were seen practicing marches. Also in June, 31 members of the group, including leader Tom Rousseau, were arrested for allegedly conspiring to riot near a Pride event in Idaho.
Newsweek reached out to the Counter Extremism Project for comment.
Update: 9/4/22, 3:02 p.m. ET: This story has been updated to include comments from a press release sent from Wells' office.
Update: 9/4/22, 4:40 p.m. ET: This story has been updated to include comments from Wells.