Videos Show New York City Subways, Roads Flooding As Storm Elsa Approaches
New York City has been hit by flash floods and thunderstorms as Storm Elsa makes its approach, resulting in dramatic photos and videos being shared online.
Parts of the New York City and New Jersey metro area were hit by "significant" flash flooding on Thursday, the National Weather Service said in a forecast on early Friday morning.
Tropical Storm Elsa, which first made landfall on Wednesday, moved through the mid-Atlantic states on Thursday night.
It was forecast to accelerate northeast towards the New Jersey coast, and head towards the tri-state coast on Friday morning, the National Weather Service covering New York said.
Gusty winds of over 40 mph were expected, particularly to the east of the storm track, with coastal flooding at high tide likely.
On Friday, a National Weather Service flood advisory was in place for New York City with high rainfall expected to cause flooding in areas that were low-lying and with poor drainage.
NYC Emergency Management advised people not to drive cars on waterlogged roads, and to instead move to higher ground.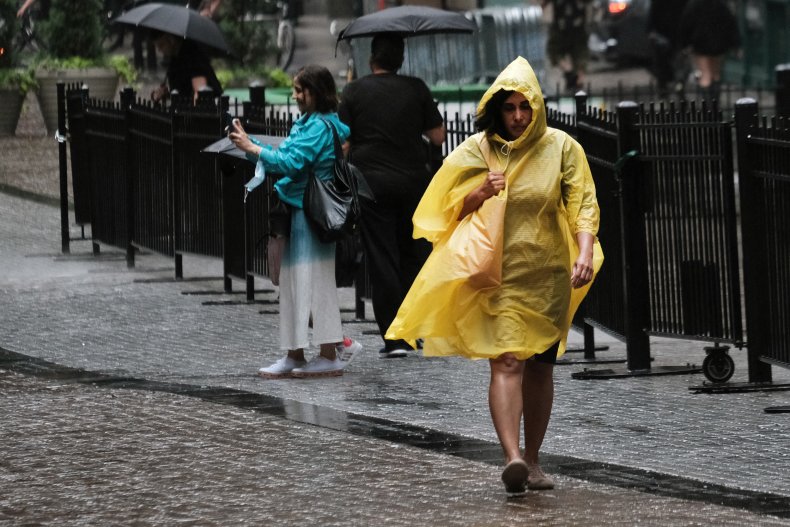 Videos shared on social media on Thursday demonstrated how the weather was making day-to-day activities tough for the city's residents.
One video shared over 17,000 times showed a person trying to navigate waist-deep water at a subway platform by the 1 train at 157th Street.
Other footage shared by the same user depicted people take what they called the "potato sack race approach" to the flooding, as people used garbage bags to try to protect themselves from the water.
Water gushed down the steps at 149th Street-Grand Concourse station in the Bronx in one of the many videos showcasing the flooded subways.
Another showed water pouring through the ceiling onto the train track at 42 St-Bryant Park station in Manhattan.
Newsweek has contacted the Metropolitan Transportation Authority for comment.
Drivers were also affected. On Thursday night, the New York Police Department told people to expect delays at all major crossing, as well as road closures due to flooding, and advised people to keep off the roads and use public transport if possible.
This came after drivers were asked to avoid the Major Deegan Expressway due to severe flooding, where the New York Strategic Response Group was called in to rescue stranded drivers.
Elsewhere, video taken on Franklin D. Roosevelt East River Drive showed cars driving half-a-wheel deep in water following the flash floods.
Julie Esposito, who filmed the video, wrote: "Anyone else driving in NYC tonight? This is insane! If you are somewhere safe, STAY THERE!"