Representative Alexandria Ocasio-Cortez was heckled on Friday during a visit to a New York City migrant housing facility, with protestors calling for stricter border security.
Ocasio-Cortez has represented New York's 14th Congressional District, which includes portions of Queens and the Bronx, since 2019, being one of the many Democrats elected in the "blue wave" of the 2018 midterms. As one of the youngest and most outspokenly progressive members of the House of Representatives, the congresswoman has over the years become a frequent target for conservative ire, which has resulted in various instances of her being heckled at public appearances in New York City.
On Friday, Ocasio-Cortez, alongside fellow New York Democrat Representatives Adriano Espaillat, Nydia Velázquez, and Jerry Nadler, made a visit to Manhattan's Roosevelt Hotel, which has been one of the locations providing shelter and services to asylum-seeking migrants arriving in the city. The migrants in the city are, in part, the result of programs in border states like Texas that have been sending them by bus to mostly Democrat-led cities further north.
More than 110,000 asylum seekers have arrived in New York City, according to New York City Mayor Eric Adams, The New York Times reported last week, with housing and care for them set to cost the city more than $12 billion over three fiscal years, according to official estimates.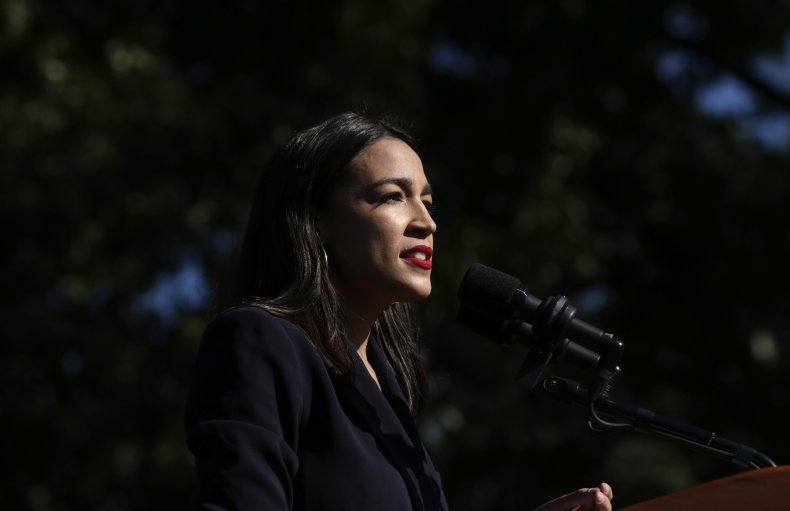 As shown in videos of the event that have begun circulating on social media, Ocasio-Cortez's appearance at the hotel was disrupted by anti-migrant hecklers, who could be heard shouting things like "close the border" and "send them back." NBC News reported that the protesters' shouts were so loud that the speeches being given by the Democratic lawmakers could barely be heard.
Newsweek reached out to Ocasio-Cortez's office via email for comment.
Similar anti-migrants protests sprung up outside of other sheltering centers on Thursday, including Brooklyn's Floyd Bennett Field and a few locations in Staten Island, the most conservative-leaning borough in New York City.
As part of a law that has been in place since the early '80s, the city is obligated to provide shelter and vital services to anyone in need, regardless of their immigration status. The recent influx of migrants being bused up from the South has resulted in the city needing to set up roughly 200 emergency shelters, which has so far cost over $2 billion.
While the visiting lawmakers' comments were partially drowned out by hecklers, NBC News reported some of Espaillat's comments, with the congressman explaining that they had wanted to "see for themselves what the migration dynamic is in our nation." He also added that, during the visit, they saw "people that want to work, [and] people that are fleeing violence, people that are fleeing environmental disasters."