Surveillance camera footage has been released showing Rep. Lauren Boebert and a companion being escorted out of a theater in Denver, after being accused of vaping, recording on a cellphone and "causing a disturbance."
The videos, which add up to just over four minutes in length, were shared by Denver Arts & Venues, which runs the Buell Theatre where the incident took place on Sunday night.
Boebert, a Donald Trump loyalist who represents Colorado's 3rd district, has emerged as one of the most outspoken House Republicans since her election in November 2020.
Democratic candidate Adam Frisch, who lost narrowly to Boebert in last year's midterms, is hoping to run against her again in 2024. Internal polling suggests Frisch is now two points ahead, the GOP lawmaker wrote in an email to her supporters last month.
In the surveillance clips, Boebert and a male companion are sitting next to the aisle, when they are approached by what appear to be two members of staff. After a discussion the pair leave their seats and are directed out of the auditorium by two men wearing earpieces. The footage ends with Boebert and her friend walking away from the theater outside, while holding hands.
The compilation of footage has been shared several times on X, formerly Twitter.
A post by New York-based lawyer Don Lewis has been viewed 670,000 times while another from media outlet MeidasTouch has had 450,000 views.
Lewis' post had the caption: "BYE BYE: Surveillance video of Lauren Boebert getting BOOTED from 'Beetlejuice' in Denver."
At one point in the footage, Boebert appears to raise a finger at the two men who are escorting her outside. One X user has suggested the congresswoman was "flipping security the bird," though this is not immediately clear in the footage.
Newsweek has reached out to Boebert for comment by email.
According to an internal incident report obtained by Newsweek, two unnamed attendees were warned about their behavior during the intermission, after fellow audience members accused them of vaping and using cellphones.
Boebert's team have denied that she was vaping.
The theater employee wrote: "Since there was already multiple complaints, I informed the patrons that if there was another issue that they would be asked to leave. The patrons were argumentative. Saying they were in concert with everyone around them."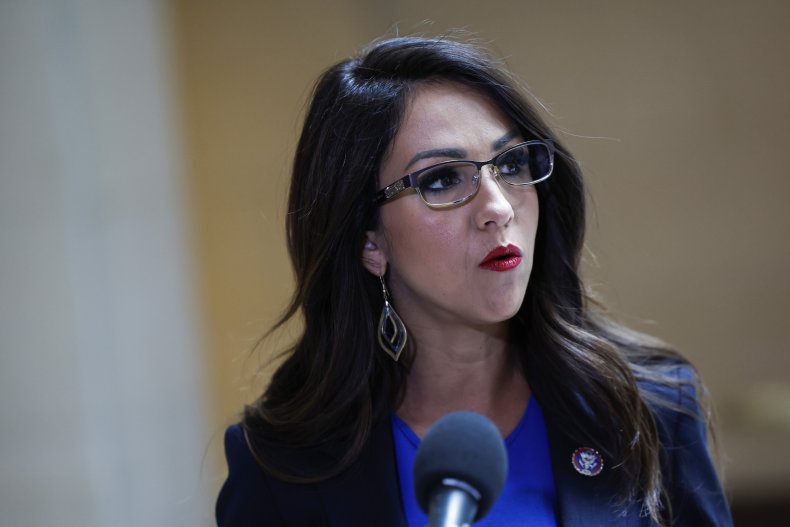 About five minutes into the second half of the performance, another complaint was received. The pair were asked to leave and Denver Police were called.
The incident report states that the pair became argumentative, with the employee writing: "I speak to the patrons in the vestibule, again telling them they have to leave the property and they argue.
"They say stuff like, 'Do you know who I am?' 'I am on the board.' 'I will be contacting the mayor.'"
Boebert confirmed she had been involved in the incident on X, commenting: "It's true, I did thoroughly enjoy the AMAZING Beetlejuice at the Buell Theatre and I plead guilty to laughing and singing too loud!
"Everyone should go see it if you get the chance this week and please let me know how it ends!"
She included a link to a ticket booking website.
In a statement sent to local paper The Denver Post Drew Sexton, Boebert's campaign manager, said the congresswoman denied vaping during the performance but had used her cellphone to take a photo, not realizing this wasn't allowed.
He added: "I can confirm the stunning and salacious rumors: in her personal time, Congresswoman Lauren Boebert is indeed a supporter of the performing arts (gasp!) and, to the dismay of a select few, enthusiastically enjoyed a weekend performance of 'Beetlejuice.'"