Videos Show Nantucket 'Absolutely Hammered' by Winter Storm as Floodwater Surges Into Buildings
Videos circulating on social media show streets on Nantucket, an island in Massachusetts, flooded on Saturday as a winter storm brings heavy snow and strong winds to New England.
One clip posted on Twitter by the Nantucket Current, a local newsletter, shows two students traveling down a street in a canoe.
"Roads? Where we're going, we don't need roads," the publication tweeted just before 1 p.m. on Saturday.
"Nantucket High School students Ian Williams, Griffin Fox, and Luke Stringer decided to make the best of the downtown flooding this morning."
The Twitter account eweather retweeted another video from the Nantucket Current showing floodwaters rising to the entrances of buildings.
"Nantucket getting absolutely hammered with wind, snow and coastal flooding! Wow," eweather tweeted.
Another video posted by Twitter user Blair Perkins shows flooding on Nantucket's Easy Street, with water completely covering the road, and approaching the homes.
Just before 9 a.m. on Saturday Nantucket police posted photos of the flooding on Easy Street and said that it was "closed for the time being."
Police also stated that there was "significant flooding on Francis St., Washington St. and Easton St."
"Please keep in mind this water is salt water and can be damaging to vehicles. Please avoid these areas and seek alt routes," Nantucket police wrote.
In an interview with Newsweek on Saturday, Bill Leatham, a meteorologist with the National Weather Service in Boston, said that some areas along the eastern Massachusetts coastline, including Nantucket, have seen flooding as waters surged due to storm winds.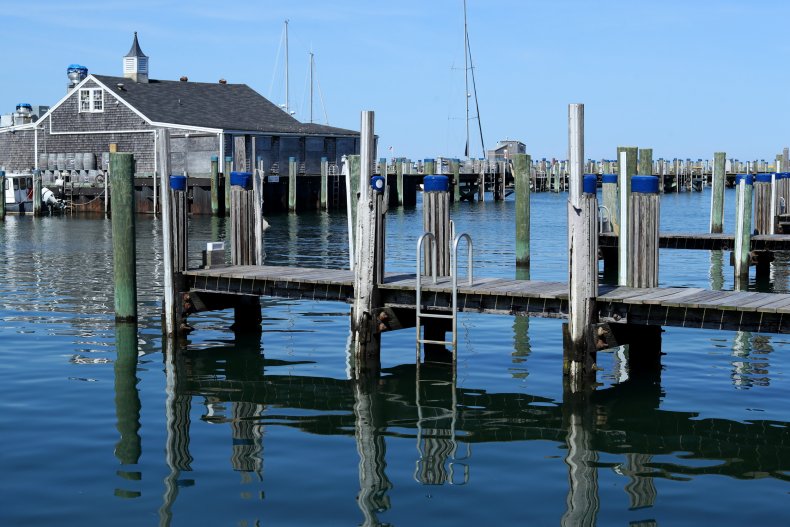 "It's looking like from the storm we saw a 2-3 foot surge of water because of strong winds and the actual system getting stronger as it moves northeastward," Leatham said.
Leatham noted that the water level in Nantucket at high tide this morning was 2.5 feet higher than normal because of the storm. He said that along with Nantucket, Marshfield, Massachusetts, has also seen some of the worst flooding in the state due to the storm. The National Weather Service has yet to receive reports of any damage due to coastal flooding Saturday.
As snow continues to fall, the National Weather Service in Boston is "urging folks to still not travel and give plow trucks ability to clear the roads." As of around 1 p.m., Boston had seen 14.5 inches of snowfall, and nearby Hingham had seen the most snow in southern New England, reporting 21 inches.
More than 100,000 people had lost power in the Northeast on Saturday as a result of the winter storm. Cape Cod and southeastern Massachusetts reported the highest number of power outages, according to the website poweroutage.us.