Viewers Delighted By Full Thanksgiving Dinner Served On Subway
What was meant to be a typical ride on a New York City subway train turned into a Thanksgiving feast when an entire spread was offered to passengers, as seen in a now-viral video.
Posted by TikTok user @thatsnothaylee, the video was viewed more than 300,000 times and featured passengers gathered around the long table that held the feast of sides, desserts and even a turkey.
"The hottest restaurant in nyc is: THE L TRAIN," @thatsnothaylee's caption read.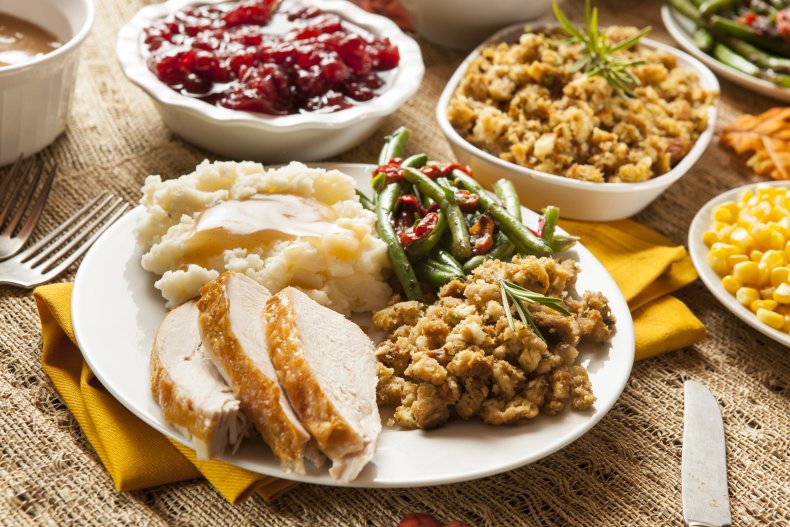 According to data compiled by Statista, the star of most Thanksgiving dinners, the turkey, is unsurprisingly among the most popular dishes for the holiday. Mashed potatoes, stuffing and bread join turkey as some of the other most popular Thanksgiving dishes.
Preparing such a meal takes time and organization.
Delish revealed some dishes, like soup, can be prepared about a week before the dinner is served and stored in the freezer. Pie crust can be frozen as well, then left to thaw just before a cook is ready to bake. Some pies can be baked and stored in the refrigerator overnight, while other pies can be baked and kept at room temperature.
While there are some dishes that can be prepared ahead of time, others are often left to be done on Thanksgiving Day, like the turkey and the mashed potatoes.
Jada Yuan, a reporter for The Washington Post, also posted a video of what it was like inside the subway car, and she said Chef Bea of Bea's Kitchen was involved in preparing the mobile meal.
This is not the first time such an event was organized. In 2019, The New York Times reported that local comedian Jodell Lewis and his friends reached out to Brandi Baxter, also known as Chef Bea, to organize a Friendsgiving on the train.
Footage from that event also went viral.
@thatsnothaylee shows all the food that was available to the passengers, many of whom were eager to line up to fill their plates.
They crowded around the table taking videos while accepting servings of what was offered.
"Mac & cheese was fire," read @thatsnothaylee's review on the screen.
In the comments section, @thatsnothaylee said the people organizing the event said they ensure everyone who wanted or needed food had what they needed.
Viewers were just as delighted by the generous meal as the passengers.
"This is so precious," a viewer wrote.
"When [people] ask me why I'm never leaving my home in nyc, imma show them this lol," commented another TikTok user.
"This is so sweet," one viewer wrote. "This might be some people's only thanksgiving meal. It's so nice they did this."
Newsweek reached out to @thatsnothaylee and Brandi Baxter for further comment.
This is not the only Thanksgiving-related content that has gone viral. A mother of eight shared how she stocked up for Thanksgiving dinner, while an alligator was filmed enjoying a 22lb Thanksgiving turkey.