Mom-of-8 Reveals $500 Thanksgiving Haul, Including Insane Charcuterie Bar
Meet the mom-of-eight who spends three days preparing for the national holiday and spends $500 on Thanksgiving dinner.
According to the American Farm Bureau, the cost of the holiday meal has been on the rise for years. But with inflation, this year it's up even more and Americans will be paying 20 percent more than last year. The bureau says the national average cost of a Thanksgiving meal for 10 people this year is $64.05 compared to $53.31 in 2021.
Newsweek spoke to Heather Bell, 51, to find out just how long it takes her to prepare for her Thanksgiving dinner, and just how much it costs to feed her eight kids and family members.
Bell may start prepping for Thanksgiving three days prior to November 24, but her plans don't start there. On November 16, the family of 10 started the Thanksgiving season with an impressive charcuterie bar. The mouth-watering platter racked up over 36,000 likes on Instagram.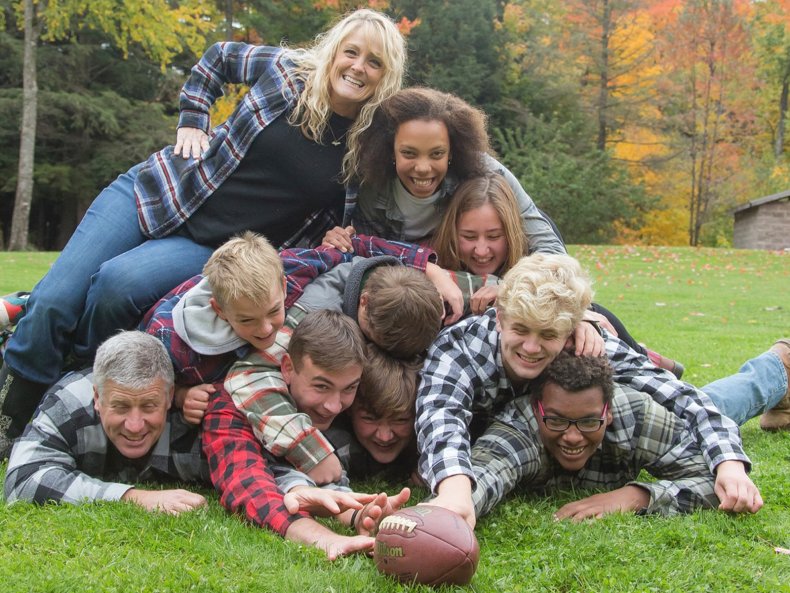 The platter included cheese, crackers, fruit, meat, vegetables, nuts, and so much more!
Heather and her husband Luke, 49, own their own poultry farm meaning they save money on eggs. They also can have their homegrown vegetables meaning most of the trimmings are free. However, they still have a large list of groceries to buy to feed their eight kids and parents.
Staple ingredients have increased by 20 percent compared to last year. The cost of pie 9-inch shells is now $3.98, according to The Farm Bureau Survey. Heather needs to buy a total of 10, meaning she will spend just under $40 on the pastry shells. The Bureau Survey also states 12 ounces of cranberries have gone up to $2.57 and 14 ounces of cube stuffing is now $3.88.
The mom managed to bag two turkeys for free through her son Joshua, 21, who works at a grocery store. This means she dodged the inflation as a 16-pound bird costs more than last year, at $28.96 which is $1.81 per pound, up 21 percent from last year, due to several factors beyond general inflation, according to the bureau.
The savvy mom saves money on meat by purchasing two whole hogs at the start of each year and the family raise their own cows to butcher.
A whole hog is cut into tenderloins, pork chops, ham steaks, bacon, sausages, ribs, and more, The average cost is $550 according to a Michigan-based family-owned business Merindorf Meats which works out to be $2.89 per pound for a 190-pound hog.
Bacon in the U.S. retails for around $7.21 per pound, according to Statista. So Heather is saving a fortune. However, these money-saving hacks haven't stopped her from splurging during the national holiday.
However, Heather told Newsweek she will spend approximately $500 on grocery shopping as she makes all her children's favorite sides plus the classics such as green bean casserole, mac and cheese, creamy mashed potatoes, and sausage stuffing.
Heather and adopted son Noah make 12 pumpkin, blueberry, and peach pies to feast on, ranging from average-sized to mini. They also make a few more to donate to their church.
Last year, Heather, who uses the handle @justthebells10 shared a video on her TikTok showcasing the pie selection.
Thanksgiving Traditions That the Whole Family Loves
It is safe to say nobody goes hungry in the Bells' house. Heather refers to her kitchen as the heart of her home, she has a 12-feet-long and 10-feet-wide table for David, 22, Robert, 22, Joshua, 21, Hailey, 21, Brendon, 20, Gideon, 18, Izabella, 16 and Noah, 15. All of the children apart from Gideon are adopted.
She said: "I am a big traditionalist, it is crucial for me to have traditions for my kids as they come from broken homes. So I want the holidays to be a blessing.
"Sometimes they were back and forth in their childhood so I have always made a big deal of Thanksgiving. It is something they can hold onto when they're older and remember into adulthood."
Heather revealed that she starts preparing for Thanksgiving three days before the holiday each year. She starts the process by asking her children to pick their favorite side dish to add to the menu.
She then looks in the pantry and notes anything she already has before preparing a shopping list. Recently, Heather gave TikTok a tour of her pantry and over 170,000 people watched it.
How to Prepare for Thanksgiving
Heather has shared her top tips on how to prepare for Thanksgiving.
Make a menu before food shopping
Start writing ingredients down and plan ahead of time
Schedule when you are going to go shopping and when you are going to get started cooking
She said: "I couldn't make over a dozen side dishes in one day so preparation is very important.
"I think having a plan definitely helps but it takes all of us. I couldn't do it alone."
She told Newsweek: "I will probably spend around $500 in the store.
"I have a lot of canned stuff like pie fillings but I have still managed to fill two pages with items that are needed from the store such as sweet potatoes, onions, a selection of cheeses, ice cream, and plenty more."
Heather spends the 21st making desserts and the following day she spends the morning making pies before grocery shopping.
She said: "I put Christmas music on for Noah and I as we bake then we all go grocery shopping and eat out.
"I prepare as much as I can the night before and my husband wakes up at 4 am on Thanksgiving to put the turkey in the oven. I get up at 6 am."
Recently, over 6 million people watched a video of Heather's breakfast spread on TikTok. This is something she does on most weekends and every Thanksgiving.
She said: "As there's so many of us, it is easier to put on a buffet-style breakfast so everyone can go and pick what they like.
"We have stations so everything is together and laid out before making it. Each person grabs a station as there's so much to do.
"Thanksgiving is bigger than Christmas for us, we love the holiday and tradition. The kids love the game plan and looking forward to it.
"We still have fun whilst cooking dinner together and then we eat at noon before watching the Detroit Lions game.
"After that, we lounge around, some kids have a nap as they are so stuffed and then we will play games.
"Thanksgiving is all about enjoying each other's company."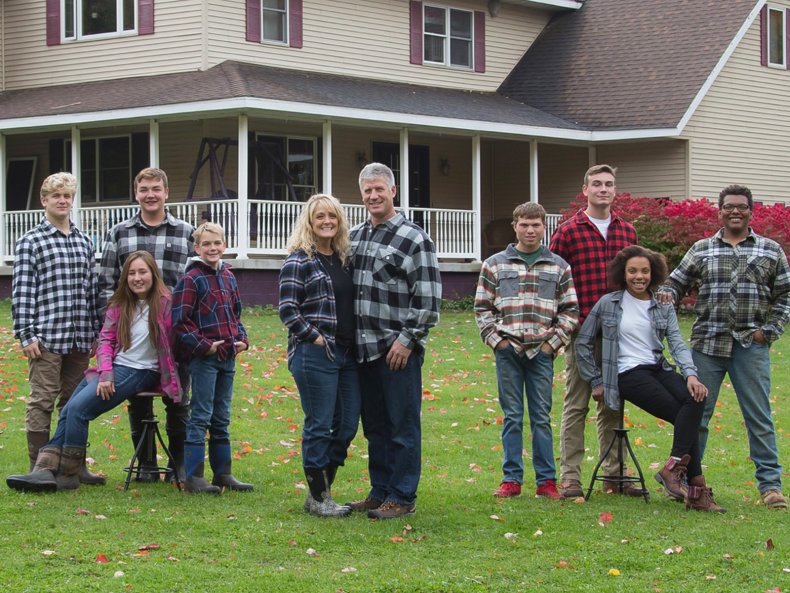 What to Do With Thanksgiving Leftovers
Traditionally, the Bell family spends the weekend after Thanksgiving getting into the festive spirit. It is a weekend filled with fun and food, some of which is left over from the holiday.
Heather said: "I always make sliders with the leftovers, sometimes it sounds like they might be gross but they are delicious. We love them.
"It is basically turkey, cranberry sauce, cheese, stuffing, and gravy on bread rolls. I then put them in the oven for a few minutes to warm them up and melt the cheese."