Mom of 12 Reveals Her Family's Supersized McDonald's Order: 'Call Ahead'
A mother of 12 has revealed what her family's supersized McDonald's order looks like, finally confirming that there really is never enough sweet and sour sauce.
Alicia Dougherty, from New York, regularly posts about her life parenting Alex, 16, James,15, Nevaeh, 13, Patrick, 13, Dayshawn, 12, Bree, 11, Zoey, 10, Dash, 8, Jordan, 7, Jason, 7, Bodhi, 5 and Harlee, 3.
Alicia, 41, and her husband, Josh, 43, have four biological children. They adopted an additional six and recently took in two foster children.
The mom shares her daily routines to TikTok and Instagram under the name @doughertydozen, and recently revealed what they order from the fast-food restaurant.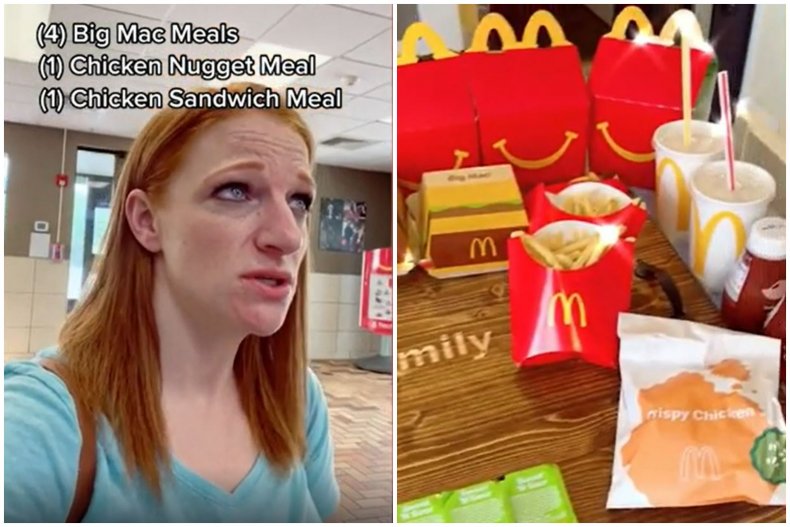 The clip, shared on Tuesday, said read: "Ordering McDonald's for my family of 14."
The video, which can be seen here, has already amassed more than 2.5 million views, and was captioned: "Even ordering @McDonald's is an Adventure with a #LargeFamily. What's your McDonald's order?"
As she chats to the cashier, she orders four Big Mac meals with Sprite, one Chicken McNugget meal, one Chicken Sandwich meal, eight Happy Meals, extra fries and a six-piece McNugget box.
In the comments she explained who ordered what, writing: "Big macs: Josh, Alex, James, Dayshawn. Nuggets: Nevaeh. Chicken sandwich: me. The rest Happy Meals."
While she didn't specify how much it cost, the amount on the till hit $91. It is thought Alicia had some gift cards to redeem, to offset the cost.
Sharing the same clip to Instagram, she added: "This is our Basic Lunch Order. If I'm ordering dinner I'll add on extra burgers and nuggets. Sometimes milkshakes or ice cream. And there is NEVER enough sweet & sour sauce.
"What's your McDonald's Order? Thank you @mcdonalds for the gift cards and charcuterie board!"
She filmed the spread back at home, on top of the personalized board she referenced above.
Commenting on the mammoth haul, Crazy J 207 joked: "Thank you for not holding up the drive through with that big of a order."
Angela Michelle Pope commented: "My family of 6 use to cost me almost 50 bucks cant even imagine what that costs
While Thehestersarehome asked: "Do you have to call ahead?"
Brooke fraijo joked: "I just know they messed SOMETHING up in that order."
Dawna Nance advised: "Girl, get the app and use them coupons."
Fileee3 thought: "Wrong day for the maccas employees."
Merijane Galoi raved: "How do you remember it all. You are awesome."
Villan M commented: "I would have quit right there and then."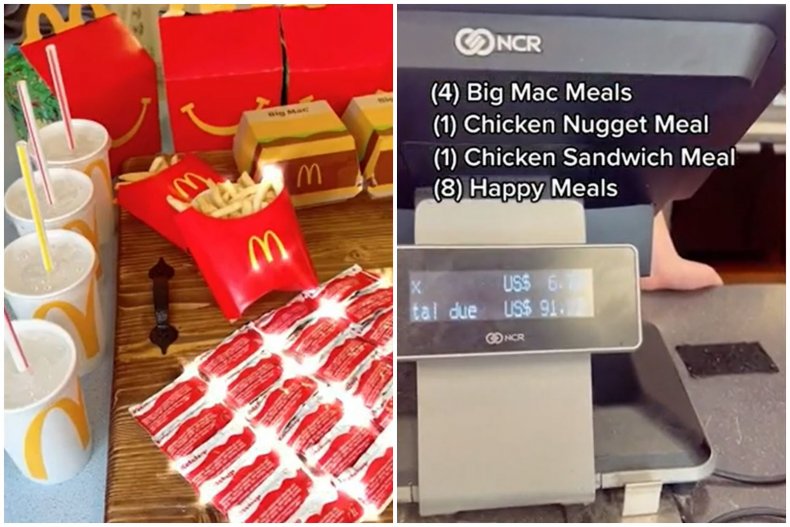 Vacuum.cleaner69 reckoned: "I don't even want to know the price."
Javier Hernandez admitted: "The fact that I could eat that all without hesitation."
While TikToker Louis advised: "I recommend using the McDonald's app to make orders quicker."
To which Alicia responded: "It takes longer bc they max out the app order at 20 items so then I'm placing multiple app orders lol."
According to a report from FoodService.de, citing the Top 500 Chain Restaurant Report by market research firm Technomic, McDonald's was the leading quick-service chain restaurant in the U.S. in 2020.
Figures show systemwide sales of $40.52 billion, with the next most popular, rival Starbucks, with only $18.5 billion.
The chart below, provided by Statista, shows the price of a Big Mac around the world.
Update 5/24/22, 10:51 a.m. ET: This article was updated with video and photos from @doughertydozen.