McDonald's Worker Reveals How to Make the Legendary Chicken Big Mac
McDonald's has introduced numerous limited-edition menu items over the years, including the McRib, McHotdog and, yes, the McPizza.
Some burgers were discontinued while others were only available in select locations (McPizza, we're looking at you.)
Now fans of the Big Mac can get their hands on the fabled Chicken Big Mac—if they're in the U.K.
Fast-food fans across the pond are rejoicing as the burger hits menus for a short time only, until March 15.
If your mouth is salivating at the thought, workers have revealed exactly how to make it. TikToker Bowersmcdonalds, who appears to work at a restaurant in the U.K., shared a clip entitled: "Introducing the New Chicken Big Mac."
They talk viewers through the assembly process, saying in the on-screen captions: "Making the new chicken Big Mac. 10ml of Big Mac sauce on the club and heel.
"No onion on the chicken Big Mac. 14g shredded lettuce, 2 yummy pickles (controversial we know!) add one slice of McDonald's cheese.
"The new tempura chicken patty! 1 on the club and heel. Assembled all together for you to enjoy."
Since being shared last month the clip, which can be seen here, has amassed 3.5 million views.
The burger originally landed in stores on February 2, but it was soon pulled from the menu due to popular demand. On Wednesday, a post from the official McDonald's UK Twitter account confirmed that it was back.
Fans reacted with glee, with Jennifer Swann writing: "Love this please make it a permanent menu item. Will be ordering this on Wednesday that's for sure."
Jaclyn Fiddyment commented: "I need to try and get one of these this time."
Dave wrote: "Simple solution is make it permanent at every restaurant instead of it being limited edition."
"Yessssssssss!! This should be a permanent addition though," @twoshoes1874 added.
Announcing the burger earlier this year, a statement from the chain said: "It's one of McDonald's most requested menu items and it's finally here—featuring two 100% chicken breast patties in a crispy coating, a slice of cheese, lettuce, pickles and the deliciously world-famous inimitable Big Mac sauce between the iconic three-layered bun."
The chicken burger comes in at 544 calories, according to the chain's website.
McDonald's is by far the most popular fast-food company in the world, by brand value, with a study by Brandz estimating its brand value at $154.9 billion last year.
The brand in the No 2 spot, Starbucks, was a long way behind at $60.3 billion.
In the U.S., McDonald's was also the clear winner when it came to systemwide sales in 2020, with figures from Food-service.de revealing the burger joint earned $40.53 billion in sales revenue.
Starbucks was again in second place, with $18.5 billion.
A spokesperson from McDonald's said: "We have been delighted by our customers' reaction to the limited-edition chicken Big Mac. The demand has been incredible and we're pleased to share it's back—but for a limited time only."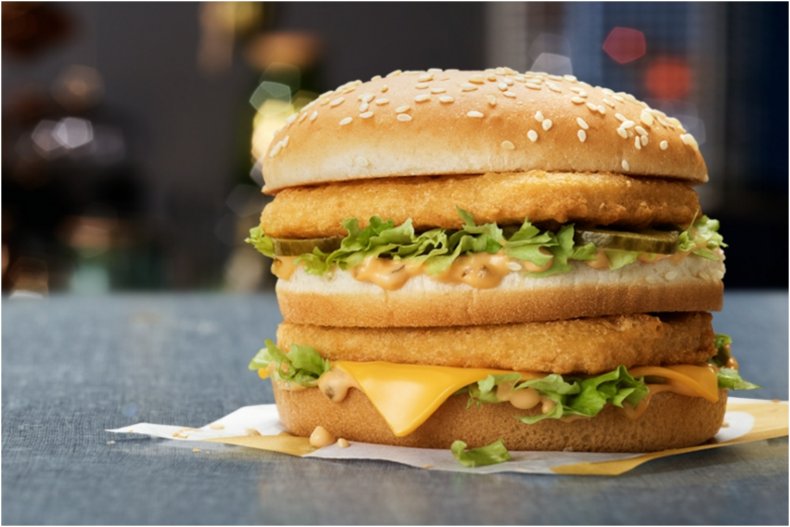 Update 03/04/22, 6:30 a.m. ET: This article was updated with comment from McDonald's.