Vikings' Owner Mark Wilf Speaks Out Against Antisemitism During Virtual Day of Action
Thursday, May 27, marked the Day of Action Against Antisemitism, a day of solidarity in speaking out against antisemitic incidents in the United States and around the world.
The Anti-Defamation League (ADL), as well as the American Jewish Committee, Jewish Federations of North America, and other organizations, came together to organize the movement and provide a virtual rally that took place at 4 p.m. ET.
Mark Wilf, President and co-owner of the Minnesota Vikings, was a notable speaker at Thursday's event.
Wilf is a prominent chair member of the Board of Trustees of The Jewish Federations of North America (JFNA), which represents 146 independent Jewish communities and a wide network of smaller communities.
Newsweek spoke to Wilf before the rally on Thursday, and he highlighted the purpose of the Day of Action: "The day is to make sure that people understand that antisemitism and discrimination are unacceptable in American society."
"Antisemitism has been around for millennia," he said, "and what's concerning here is over the past few weeks it's become much more brazen and accelerated because of social media."
The Anti-Defamation League (ADL) reported that antisemitic incidents in the U.S. have increased by 75 percent in the last two weeks alone.
Wilf feels the personal responsibility he has to be a part of the fight against antisemitism.
"My parents were Holocaust survivors, and they grew in Europe where antisemitism and lack of understanding led to horrible consequences," he said.
"This event is a response to the uptick of antisemitic behavior," he added.
Speakers streamed one after the other in the virtual rally on Thursday, each urging people to be strong and stand in solidarity and calling them to continue fighting. Prominent key speakers, including House Speaker Nancy Pelosi, Senate Majority Leader Chuck Schumer, Senate Minority Leader Mitch McConnell, House Minority Leader Kevin McCarthy were present.
House Speaker Nancy Pelosi said, "We cannot forget that antisemitism has always plagued our world, even when the violence doesn't make the headlines. It's our moral duty to confront this evil."
"I promise I will work with President Biden, Congress, and all of you to create policies that create a more fair, tolerant, and prosperous country," stated Senate Majority Leader Chuck Schumer.
And House Minority Leader Kevin McCarthy announced new legislation to fight antisemitism: "Our bill will support law enforcement and ensure that the monsters who are attacking Jewish Americans will face swift justice."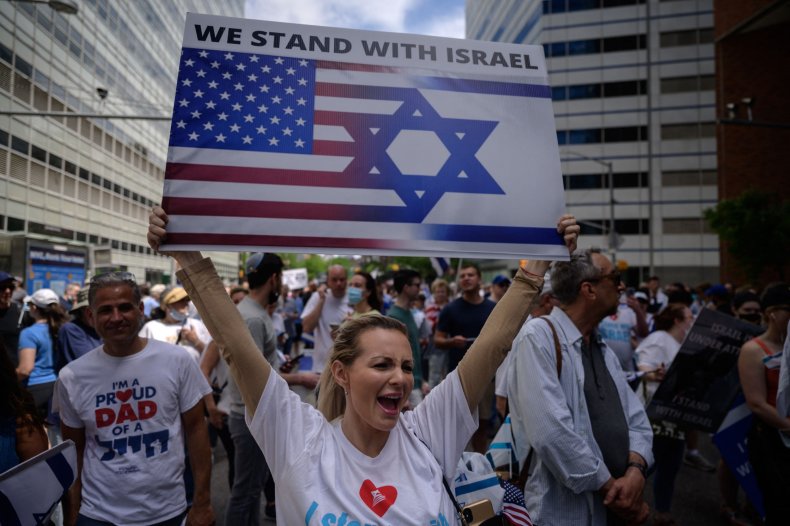 Wilf said that it's incredibly important now for Americans to "stand shoulder to shoulder" against antisemitism.
"We need to be strong in the Jewish community, and we need to be strong about standing up against discrimination of any kind," he told Newsweek.
As a member of the JFNA, Wilf recently led 22 senior American Jewish leaders on a solidarity mission in Israel to show support in the wake of the Israel and Hamas conflict. They were able to distribute a total of $300,000 in emergency funds to people affected by missile strikes and met with Prime Minister Benjamin Netanyahu and other Israeli government officials.
In a press release on Thursday, Wilf said, "I am proud to be leading a group of 22 leaders from the Federation system on this special solidarity mission in order to assess the situation on the ground and show our unwavering support for Israel and its people."
The virtual rally had at least 30 total speakers from various religions and cultures present to call out antisemitism in America.