Viktor Orbán Gets CPAC Standing Ovation for Telling Globalists 'Go to Hell'
Hungarian Prime Minister Viktor Orbán had the crowd at the Conservative Political Action Conference (CPAC) in Texas up on their feet after he told globalists to "go to hell."
"We have seen what kind of future the globalist, ruling class has to offer. But we have a different future in mind," Orbán said during his Thursday speech. "The globalists can all go to hell, I have come to Texas."
His remarks were well received by the conservative crowd, who quickly cheered and gave the prime minister a standing ovation at the annual conference.
Orbán, who has been alienated by his European neighbors for his criticisms of Ukrainian President Volodymyr Zelensky, was warmly welcomed by conservatives at the Dallas conference for his hardline stance on immigration and LGBTQ rights.
The far-right leader, who was the only European Union leader to back former President Donald Trump in 2016, is also seen as Russia President Vladimir Putin's closest ally in the EU.
Last year, Fox News host Tucker Carlson hailed Orbán as the only, current "elected leader who publicly identifies as a Western-style conservative."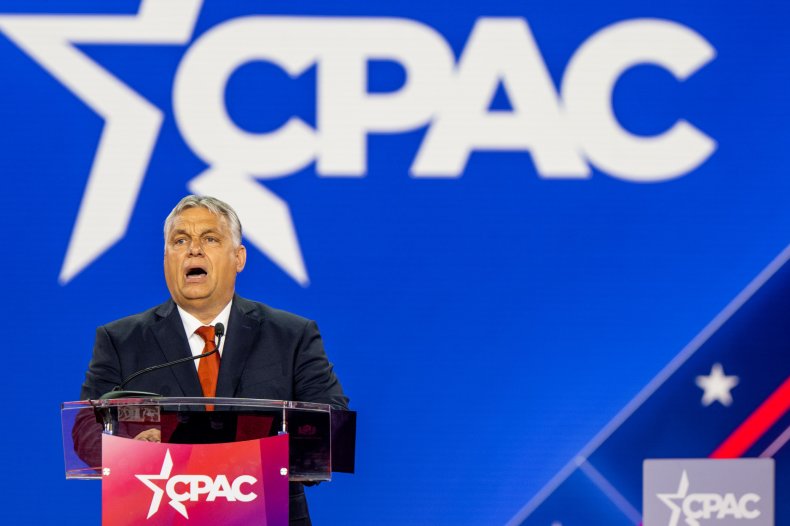 Orbán's appearance at the conference has raised concerns that Republicans are embracing a leader who has been accused of undermining Hungary's democratic institutions. He has recently come under criticism for his comments opposing a "mixed-race" society in Europe.
"These countries are no longer nations: They are nothing more than a conglomeration of peoples," he said during a speech last month in Romania, according to a translation from the Associated Press.
"We are willing to mix with one another, but we do not want to become peoples of mixed race," Orbán added. "Migration has split Europe in two—or I could say that it has split the West in two."
His comments prompted his longtime confidant Zsuzsa Hegedus to resign days later. In her resignation letter, Hegedus wrote that not even the most "bloodthirsty racist" could condone Orbán's comments.
On Thursday, the prime minister concluded his speech by telling the American crowd, "the world looks to you for the future."
"The future of the West is in grave doubt. We in the West have not faced a crisis like this for a long time," Orbán said.
"The ideological wars of the 20th century against the totalitarian powers of Nazi Germany and the Soviet Union were terrible. But the democratic West rallied and defeated them both," he added. "Now the West is at war with itself."