Vimeo Removes Alex Jones's InfoWars Content: 'Discriminatory and Hateful'
Vimeo has joined the growing group of online platforms that have removed content published by InfoWars conspiracy theorist Alex Jones.
A spokesperson for the popular video-sharing website told Business Insider that the clips "violated our terms of service prohibitions on discriminatory and hateful content," which prompted the company to notify the client and issue a refund for the videos.
"We do not want to profit from content of this nature in any way," the spokesperson added.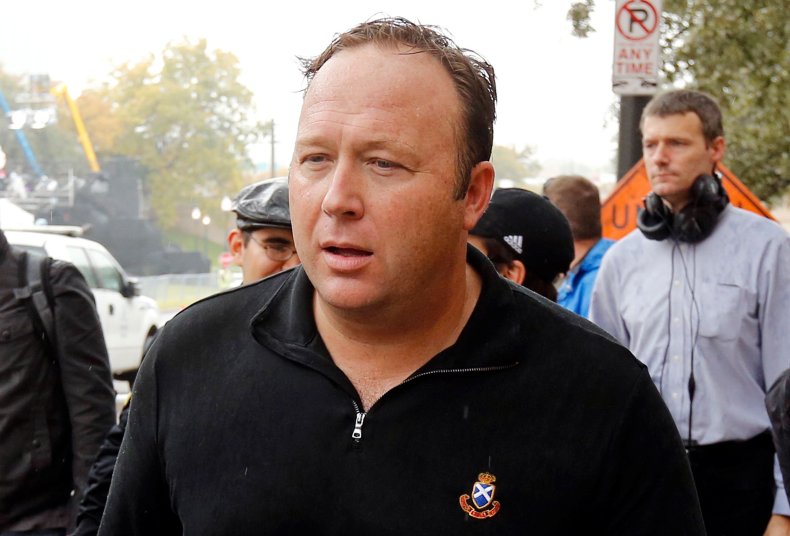 The videos in question were uploaded to the site on Thursday and Friday. On Wednesday, there were less than a dozen InfoWars videos on Vimeo, but 50 more were posted in the next few days.
Vimeo reportedly removed the content within 48 hours from when they were posted after it determined that it violated its trust and safety standards. According to Business Insider, Vimeo's CEO Anjali Sud plans to announce the move at a 9 a.m. town hall meeting today in New York.
Who Is Alex Jones?
Alex Jones is a right-wing provocateur and conspiracy theorist who owns InfoWars—a website founded in 1999 on which dubious news reports are posted. The site also sells a variety of supplements and survivalist products. Jones often links their necessity to a particular story he is pushing on his show.
Jones not only espouses far-right politics, but he has also peddled conspiracy theories, such as claims that the U.S. government was behind the 9/11 attacks, and that the Sandy Hook school shooting was a hoax.
A defamation lawsuit was filed against Jones and his associates by some of the Sandy Hook victims' families, over Jones's claims that the 2012 mass shooting in Newtown, Connecticut, was staged.
"Jones is the chief amplifier for a group that has worked in concert to create and propagate loathsome, false narratives about the Sandy Hook shooting and its victims, and promote their harassment and abuse," the lawsuit states.
Social Media Backlash
In recent weeks many prominent social media platforms have banished Jones's content, a move that has pushed the far-right host to desperately seek other ways to get his message out.
Last Monday, Facebook and YouTube removed Jones's pages from their platforms, while Apple and Spotify took down his podcasts. The companies cited reasons ranging from "repeated violations of community standards" to content containing "hate speech" to "using dehumanizing language to describe people who are transgender, Muslims and immigrants."
Following the removals, Jones pleaded with President Donald Trump to fight "censorship" in a bizarre monologue posted online in which the conspiracy theorist condemned the mainstream press and accused China of interfering with the U.S. elections.
"Mr President, America knows you're real. They know the Democrats are the anti-American globalists allied with the ChiComms, radical Islam, the unelected EU, and others," he said. "If you come out before the midterms and make the censorship the big issue of them trying to steal the election."
"And if you make the fact we need an Internet Bill of Rights, and antitrust busting on these companies, if they don't back off right now," Jones continued. "And if you don't come out and point out that the communist Chinese have penetrated and infiltrated and are way, way worse than the Russians… then they will be able to steal the midterms and start the impeachment."
Trump praised Jones during an appearance on his radio show via video from Trump Tower in 2015. "Your reputation is amazing. I will not let you down," Trump said.
Despite the bans, Jones still posts content on his website, app and Twitter feed. Last week, a spokesperson for Twitter told Newsweek that it would not imminently ban Jones from its Periscope platform and streaming service because he has not violated any of the platform's rules.
Twitter CEO Jack Dorsey tweeted an explanation on Tuesday night. "We didn't suspend Alex Jones or InfoWars yesterday. We know that's hard for many but the reason is simple: he hasn't violated our rules. We'll enforce if he does. And we'll continue to promote a healthy conversational environment by ensuring tweets aren't artificially amplified."